JAKARTA, KOMPAS.com – Jakarta Deputy Governor Ahmad Riza 'Ariza' Patria is confirmed to test positive for Covid-19. He is the most senior official in the Jakarta Provincial Administration to test positive for the illness.
The Gerindra Party politician announced he found out the results, following two swab or PCR tests at the end of the week. "The first test on Thursday, 26 November was negative. But another test the next day came out positive," Ariza said in a statement on Sunday, 29 November.
"Contact tracing by the Jakarta Health Service showed that I was infected with Covid-19 by one of my staff, who in turn contracted [Covid-19] from a cluster in his family."
Also read: Indonesian Muslim Cleric Rizieq Shihab's Homecoming Paralyzes Jakarta
Ariza added that he is asymptomatic as well as in stable condition, and is self-isolating at home. Ariza also urged Jakartans to comply with health protocols and be more disciplined in practicing them, even within families.
Prior to testing positive for Covid-19, Ariza attended a mass gathering held by the Islamic Defenders Front [FPI] to celebrate the birth of the Prophet Muhammad earlier this November.
Meanwhile, Indonesian officials continued to get the fallout from FPI gatherings that celebrated the return of their exiled chief Rizieq Shihab.
The Jakarta Provincial Administration's Inspectorate or internal affairs have questioned seven officials for facilitating the firebrand cleric, as he held a wedding reception for his daughter in Central Jakarta's Petamburan district that drew over 10 thousand people in defiance of health protocols.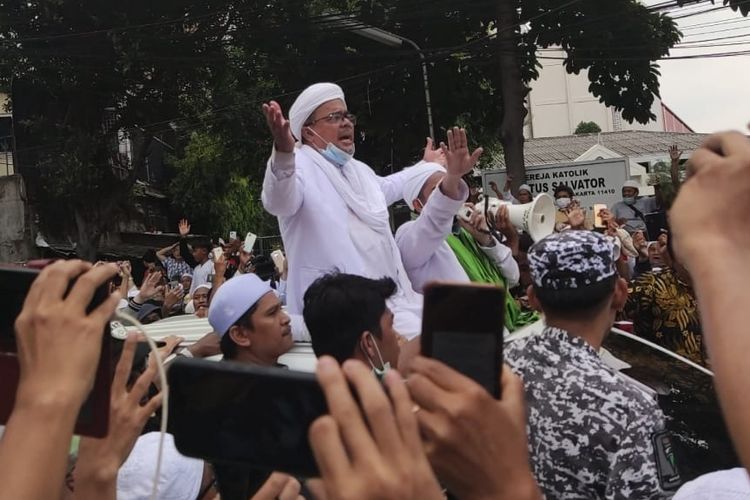 Islamic Defenders Fron [FPI] Habib Rizieq Shihab speaks to his followers after coming home from exile in Saudi Arabia [10/11/2020]
Also read: Indonesian National Police Takes Fallout From Return of Political Firebrand
"We questioned the officials after they disregarded [Jakarta Governor Anies Baswedan''s] instructions to check large mass gatherings that increase the possibility of [Covid-19] transmission," asserted Jakarta Regional Secretary Sri Hartati.