KOMPAS.com – Indonesia is set to hold regional elections on December 9 this year despite the Covid-19 pandemic.
To allow eligible voters to exercise their voting rights, the government has declared December 9 as a public holiday. This was officially announced following a Presidential Decree signed by President Joko Widodo on Friday, November 27.
The simultaneous local elections will elect a total of 270 regional heads throughout the country.
Meanwhile, in Gorontalo province, Indonesia's elite anti-terrorism unit has arrested seven suspected terrorists in Pohuwato regency.
The operations took place only a week after two other suspected terrorists of the East Indonesia Mujahidin (MIT) terror group were shot dead by Operation Tinombala Task Force members in Central Sulawesi.
The two militant suspects were the two most-wanted list in West Bolano Village in Parigi Moutong regency which is located near Pohuwato regency.
Below are excerpts from the stories in Indonesia, curated by Kompas.com editors:
1. Indonesia Declares December 9 Regional Polls a Public Holiday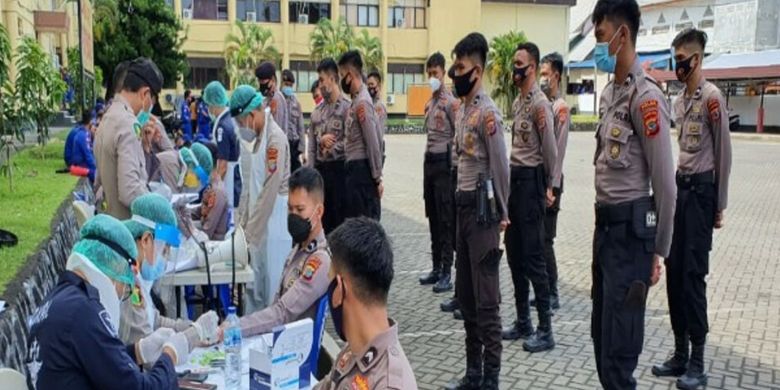 Police personnel in North Sulawesi undergo rapid tests before they will be deployed to provide protection and ensure safety to the upcoming regional elections on December 9, 2020.
The Indonesian government has declared December 9 this year as a national holiday to allow eligible voters to cast their ballots for the simultaneous regional head elections.
The announcement was officially issued after President Joko Widodo signed Presidential Decree (Keppres) No. 22/2020 which stipulates the regional elections day as a public holiday.
The regional elections are set to elect nine governors, 224 regents, and 37 mayors across the country despite the Covid-19 pandemic.
The decree comes into effect on Friday, November 27.
Source: https://travel.kompas.com/read/2020/11/28/160400827/presiden-jokowi-tetapkan-pilkada-9-desember-2020-jadi-hari-libur-nasional.