JAKARTA, KOMPAS.com – The chrome helmet on the tomb shimmered as the Jakarta sun shone off its top. "To An Unknown Soldier," said the marker on the tombstone. "Date of Birth: Unknown. Killed in Action: 1945."
The sight of the Tomb of the Unknown Soldier, who is one of over 7,000 people interred in the cemetery, is as poignant here as the tombs of fallen US servicemen in Arlington National Cemetery or the cemetery near Omaha Beach in Normandy.
The place is none other than Kalibata Heroes Cemetery. More than 7,000 servicemen and others were interred here, most of whom died in the Indonesian War of Independence from 1945 to 1949 to free the country from Dutch control.
Indonesian architect Friedrich Silaban built the cemetery in 1953 on orders from Indonesia's first President Soekarno.
Also read: Jakarta City Guide: 5 Museums to Visit to Honor Indonesia's National Heroes
The cemetery reflected his premise that "a great nation is a nation that is able to respect its heroes." This belief is reflected in the columns and walkway leading to the cemetery.
Like his designs for the National Monument (Monas) and Istiqlal Mosque, the features reflect Silaban's understanding of Soekarno's vision.
"Soekarno always had a grand vision of Kalibata. The place fit the bill at the time because back then it was vast, empty land," said Komunitas Historia Indonesia historian Asep Kambali.
"Indonesian servicemen used to be buried at the Ancol Heroes Cemetery. But Soekarno ordered Kalibata Heroes Cemetery to be built after Ancol was running out of plots of land."
Asep added that Kalibata also has a multi-purpose and transit hall with a wall containing the names of those interred on the grounds.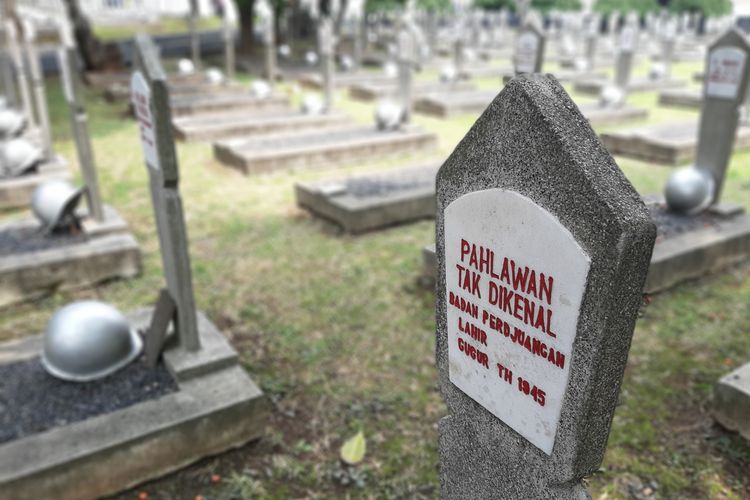 One of many Tombs of the Unknown Soldier in Kalibata Heroes Cemetery