KOMPAS.com - Mountain climbing is one of the fastest-growing activities and can be an alternative physical activity to do after the emergency Covid-19 measures end later.
In the past decades, people who are physically fit have started taking these adventurous trips to have fun and keep their physical and mental health to a positive level.
High peaks may be too hard to climb for some. Therefore, beginners could start with a simple mountaineering experience before achieving their intended mountain pursuit.
Not only is this a fun, exciting, and healthy activity, but people also have the chance to see some of the most beautiful places. One of the mountains that is suitable for beginners is Cumbri Hill that stands 638 meters above sea level on Java island. The mountain is located on the border of Wonogiri regency in Central Java and Ponorogo in East Java.
Also read: Capella Ubud Hotel Bali is World's Best Hotel: Travel + Leisure
There are several choices of hiking trails to get to the top. If visitors climb the mountain through the front path, namely the Biting path, visitors will pass several uphill paths with ravines on the sides.
Besides the Biting route, there are other options that people can choose. They are known as the Kepyar route and Sumbar route in the Purwantoro district. The latter has a longer route that will require more time.
One of the most popular routes is via Pager Ukir in the Sampung District. One reason for its popularity is short distance travel, which takes less than 30 minutes.
Reaching Cumbri Hill via Pager Ukir is known as an ideal option for beginners. It is on the northeast side of Cumbri Hill, making climbers reach the peak from the north side. The path is considerably very clear to follow and the path is not steep and rough.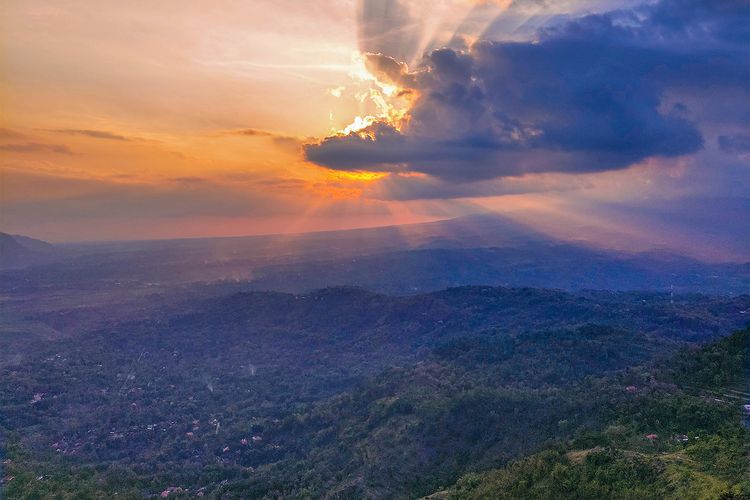 Cloud-blocked sunset from the top of Cumbri Hill.
Arriving at the top, the view in all directions will be presented so beautifully. When the weather is clear, Mount Lawu on the northwest side will be visible.