JAKARTA, KOMPAS.com – Indonesian authorities penalized McDonald's outlets throughout the country for violating Covid-19 health protocols, after they were overwhelmed with online food delivery drivers attempting to meet runaway demand for its promo BTS Meals.
The Jakarta Provincial Administration penalized 32 McDonald's restaurants in the feeding frenzy for the limited time collaboration between McDonald's and K-Pop boy band BTS.
"We have ordered 20 of the outlets to close for 24 hours, while the remaining 12 were given written reprimands," said Jakarta Deputy Governor Ahmad Riza Patria on Wednesday.
Also read: Patients With Coronavirus Increase by 20 Percent in Jakarta's Emergency Hospital
"The Public Order Agency [Satpol PP] enforced the measure, with the assistance of the military and police as well as the Covid-19 Task Force."
The Jakarta Metropolitan Police will also summon McDonald's management over the BTS Meals.
"We will ask McDonald's to clarify about the BTS Meal Promo and their failure to enforce health protocols in their outlets," said Jakarta Metropolitan Police spokesman Grand Police Commissioner Yusri Yunus.
Authorities in in other Indonesian cities such as Surabaya, East Java, Denpasar, Bali, Medan, North Sumatra, and Pekanbaru, Riau also closed or cautioned McDonald's over the meals.
A balancing act
On its part, McDonald's attempted to balance between the authorities' concerns and customer demand for the BTS Meals.
"We will apply an open and close system for orders of the BTS Meal to avoid converging crowds that violate health protocols," said McDonald's Indonesia Associate Director of Communications Sutji Lantyka said in a written statement.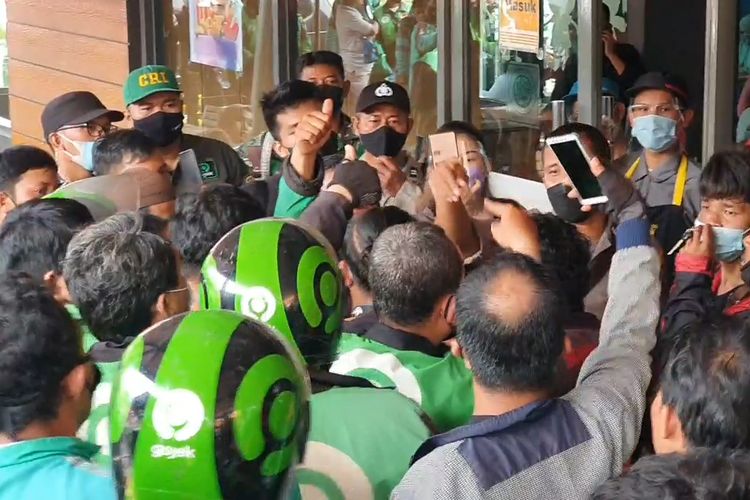 Online food delivery drivers wait to buy BTS Meals for their customers in Medan, North Sumatra, Wednesday, (9/6/2021)
"We would also like to remind our customers that the BTS Meal is not sold for one day, but for a month. So there is no need to be concerned that it will sell out."
The BTS meal consists of a meal set made up of a drink, fries and Chicken Nuggets with two sauces, namely Cajun flavor and sweet chili sauce.
Also read: Jakarta Applies Enforced Micro-Scale Restriction of Community Activities to June 14
The band has launched the BTS Meal in 49 countries, including Indonesia since last May, to the online generated anticipation of its ARMY fan club in their respective countries.