JAKARTA, KOMPAS.com – President Joko 'Jokowi' Widodo has ordered the rate of Covid-19 vaccinations throughout Indonesia to be sped up, as the country seeks to gain herd immunity and jumpstart the economy in 2022.
The order comes after the daily vaccination rate gradually picked up from 300 thousand daily vaccinations after holy Musllim month of Ramadan and the Eid al-Fitr or Idul Fitri holidays.
Covid-19 Task Force head Ganip Warsito announced that the President has ordered any means necessary to hasten the vaccination rate, following a cabinet meeting on Monday.
Also read: Indonesian Minister of Finance Suggests 1 Million Daily Vaccinations to Jumpstart Economy
"[President Jokowi] instructed us not to have any leftover stocks of Covid-19 vaccines, and that there is no need to closely manage the doses," he said. "The head of state ordered the vaccines to be finished as soon as possible, for the good of the people."
Ganip added that the vaccination program plays a major role in mitigating the pandemic.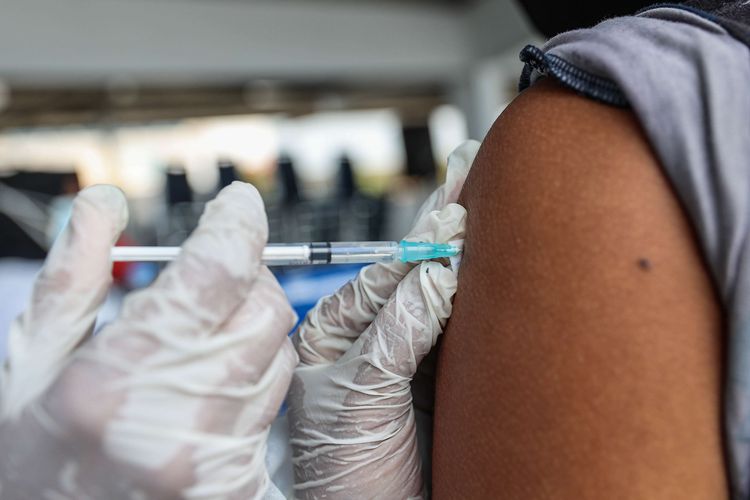 An Indonesian Navy (TNI AL) personnel gets injected with the AstraZeneca vaccine at Jakarta's Tanjung Priok military base on Friday (26/03/2021)
"The vaccines are needed to gain herd immunity, which is needed to end the pandemic. The quicker we complete our nationwide vaccination drive, the sooner we will gain herd immunity," he added.
"The vaccine stocks already made its way to all parts [of Indonesia], so they should be finished and accounted for to avoid stockpiling vaccine stocks. If their stocks are finished, I will coordinate with the Indonesian Ministry of Health [to obtain more doses]."
Also read: Indonesia Highlights: Indonesia to Extend Travel Restrictions In Java and Bali to May 31 | Indonesia's Covid-19 Vaccination Drive Among Top 20 in the World | Indonesia, Philippines to Maintain Regional Security in Southeast Asia
Minister of Health Budi Gunadi Sadikin reiterated Ganip. "The rate of Covid-19 vaccinations in Indonesia has gotten back to 500 thousand daily vaccinations [after Eid al-Fitr], as Indonesia currently has 20 million vaccine doses this June," he asserted.