KOMPAS.com - Lately, Gunungkidul regency has become the prima donna of tourism in Yogyakarta, one of the favorite holiday cities in Indonesia. Located on the south side of Yogyakarta on Java island, this area has a row of beautiful and charming beaches.
However, many people do not know that many new tourist attractions in Gunungkidul are no less interesting than the beach. These places are worth the visit during weekend holidays for tourists who want to relax and unwind for a while.
Here, the highlights from five of the favorite newest attractions in Gunungkidul, Yogyakarta:
HeHa Ocean View is one of the newest tourist attractions, located in Bolang, Girikarto, Panggang, Gunungkidul.
First opened in February 2021, this tourist spot offers a beautiful view of the southern sea. It is located right on the edge of the cliff so that visitors can enjoy the view of the high seas while eating.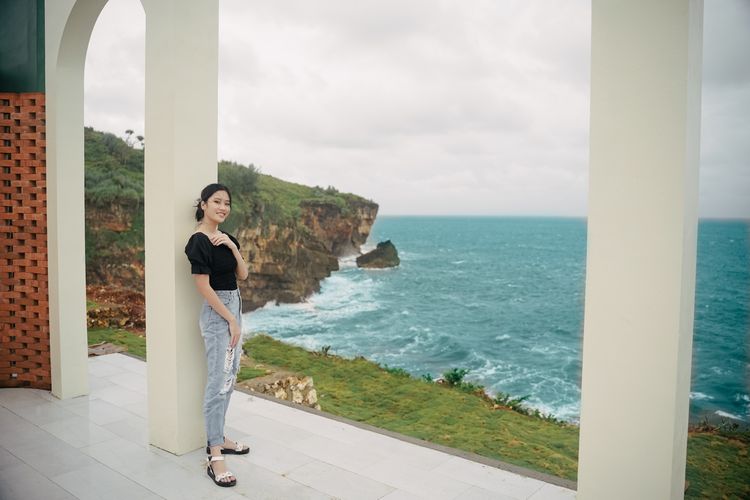 One of the photo spots at HeHa Ocean View, Gunungkidul, Yogyakarta.
It also offers other facilities such as angkringan or the humble food peddling cart, reflexology, prayer room, toilets, parks, music stages, and some interesting photo spots.
HeHa Ocean View is open every day from 10 am to 8 pm. However, visitors can only visit from 1 pm to 8 pm on Friday.
HeHa Sky View is located at Dlingo-Patuk Street, Bukit Patuk, Gunungkidul. If HeHa Ocean View has a beautiful view of an open sea, this one presents a view of the city lights.