KOMPAS.com - Lately, Gunungkidul regency has become the prima donna of tourism in Yogyakarta, one of the favorite holiday cities in Indonesia. Located on the south side of Yogyakarta on Java island, this area has a row of beautiful and charming beaches.
However, many people do not know that many new tourist attractions in Gunungkidul are no less interesting than the beach. These places are worth the visit during weekend holidays for tourists who want to relax and unwind for a while.
Here, the highlights from five of the favorite newest attractions in Gunungkidul, Yogyakarta:
HeHa Ocean View is one of the newest tourist attractions, located in Bolang, Girikarto, Panggang, Gunungkidul.
First opened in February 2021, this tourist spot offers a beautiful view of the southern sea. It is located right on the edge of the cliff so that visitors can enjoy the view of the high seas while eating.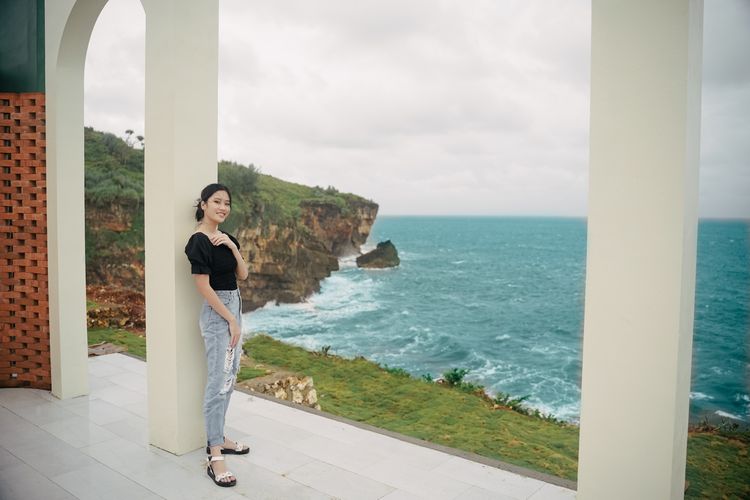 One of the photo spots at HeHa Ocean View, Gunungkidul, Yogyakarta.
It also offers other facilities such as angkringan or the humble food peddling cart, reflexology, prayer room, toilets, parks, music stages, and some interesting photo spots.
HeHa Ocean View is open every day from 10 am to 8 pm. However, visitors can only visit from 1 pm to 8 pm on Friday.
HeHa Sky View is located at Dlingo-Patuk Street, Bukit Patuk, Gunungkidul. If HeHa Ocean View has a beautiful view of an open sea, this one presents a view of the city lights.
It has seven high photo spots as it is located in Yogyakarta's highlands, including Sky Bridge, Sky Plane, Sky Glass, Wall Climbing, Sky Balloon, Suparman, and Sky Love.
On weekdays, HeHa Sky View is open from 11 am to 11 pm. Meanwhile, on Saturdays and Sundays, it is open from 10 am to 12 am.
Visitors enjoy the glass terrace on Nguluran Beach in Gunungkidul, Yogyakarta.
3. Nguluran Beach Glass Terrace
Nguluran Beach Glass Terrace is also one of the newest attractions, located in Nguluran Beach, Girikarto, Panggang, Gunungkidul. It first opened in early 2018 and since then, the place has been crowded with tourists who want to enjoy the natural atmosphere of the beach.
Not only offering beautiful views of the sea, but the Glass Terrace also provides a variety of interesting photo backgrounds such as a balcony with a glass floor, sky swings, giant crowns, and flying rickshaws.
Tourists who come to the Glass Terrace should venture up to the top and step on the glass floor which is supported by an iron frame. Standing on the glass, visitors can see how the waves roll below and hit the rocks.
This attraction is open on Monday to Friday from 9 am to 5 pm, while on Saturdays and Sundays the Glass Terrace is open from 8 am to 5 pm.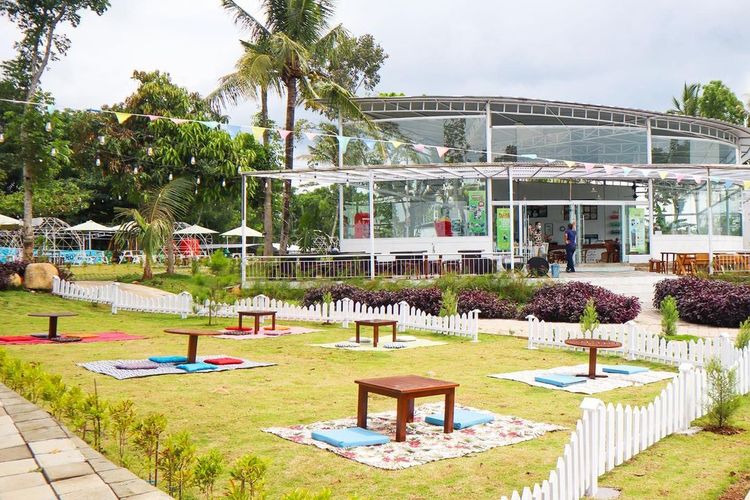 De Mangol in Gunungkidul, Yogyakarta.
4. De Mangol
De Mangol is the newest hangout place in Gunungkidul which is located on Patuk Ngoro-ngoro Street. Setting foot there, visitors will be greeted with a magnificent view of Mount Merapi from the garden.
Visitors can also have a picnic while enjoying the scenery, even take photos in unique spots such as the glass terrace, Bean Bag Area, Bike Spot, Neon Lights, and murals.
Tourists must register through the QR code provided or fill out a form at the main counter. De Mangol can be visited every Monday to Saturday from 3 pm to 9 pm, also every Sunday from 10 am to 9 pm.
Puncak Segoro is located above a cliff and offers beautiful views of the vast blue sea, rocks, and hills.
Puncak Segoro has the form of a five-story building. The first floor is a cafe, the second floor has aisle chair spots, the third floor is a hanging sofa spot, and the fourth floor is a crescent moon rattan chair spot. On the top level, there is a flying horse and Cinderella carriage spot, while the restaurant is on the ground floor.
Puncak Segoro in Gunungkidul, Yogyakarta
Various activities can be done, including hanging out in cafes, eating seafood, enjoying beautiful natural scenery, and camping on the edge of the sea cliff.
Visitors can go directly to Wiloso in Panggang District. The distance is about 44 km from the city center of Yogyakarta and the place can be reached in approximately 1 hour 20 minutes.
Puncak Segoro is open every Tuesday to Friday from 9 am to 5 pm. Meanwhile, visitors can visit on every Saturday and Sunday from 8 am to 6 pm.
(Writer: Desy Kristi Yanti | Editor : Anggara Wikan Prasetya)
Source: https://travel.kompas.com/read/2021/06/05/080900127/5-tempat-wisata-gunungkidul-terbaru-cocok-untuk-liburan-akhir-pekan
Dapatkan update berita pilihan dan breaking news setiap hari dari Kompas.com. Mari bergabung di Grup Telegram "Kompas.com News Update", caranya klik link https://t.me/kompascomupdate, kemudian join. Anda harus install aplikasi Telegram terlebih dulu di ponsel.