JAKARTA, KOMPAS.com – Indonesia continues to receive Rohingya refugees fleeing conflict and persecution from Myanmar, among them 81 displaced persons who arrived after a 113 day voyage.
Jakarta Deputy Governor Ahmad Riza Patria urged for a more cautious approach in reopening schools for face-to face learning, despite Minister of Education, Culture, Research and Technology Nadiem Makarim's assertion that the schools are ready.
And volcano observers of Mount Raung in East Java Province's Banyuwangi Regency noticed a sound and light show in the skies that are more X-Files than volcanic phenomena. This and more on Indonesia Highlights:
A Rohingya girl and women who survived the voyage to Aceh, on Friday (4/6/2021)
81 Rohingya Refugees Stranded in Indonesia's Aceh Province
A boat carrying 81 Rohingya refugees has landed on Idaman Island in Indonesia's Aceh province on Friday, June 4, after a 113-day voyage.
"We have learnt that the 81 (refugees) were fine, they landed on Idaman Island in Aceh (Indonesia)," said Chris Lewa, director of the Arakan Project, a group that monitors the Rohingya, as quoted by the Reuters news agency.
The headman of Kuala Simpang village on Idaman Island, Ulim Umar Idris, backed Chris' findings. "The villagers said the ship had been stranded off [Kuala Simpang] village. The locals also gave food and drink [to the refugees]," he said.
"However, nobody dared to approach them, for fear of Covid-19 transmission."
Dwi Prafitria, spokeswoman for the United Nations High Commissioner for Refugees in Indonesia, told Reuters that the refugees currently don't have a place to stay.
The vessel set sail from Cox's Bazar in Bangladesh on February 11 with 90 refugees with the hope of reaching Malaysia. But the boat's engine failed off the Andaman Islands, four days after leaving Cox's Bazar.
Of the 90 people who set out on the voyage, eight were found dead by Indian Coast Guards who had tracked and later repaired the vessel in February.
More than 1 million Rohingya refugees from Myanmar are living in teeming camps in Bangladesh. Human traffickers often lure Rohingya refugees, persuading them to travel on rickety vessels to Southeast Asian countries like Malaysia.
Source:
https://go.kompas.com/read/2021/06/04/234629474/81-rohingya-refugees-stranded-in-indonesias-aceh-province?page=all#page2.
Jakarta Deputy Governor Ahmad Riza Patria on Tuesday, (18/5/2021)
Jakarta's Deputy Governor Takes Cautious Approach to Face-to-Face Classes
Deputy Jakarta Governor Ahmad Riza Patria has announced that the Jakarta Provincial Administration will take a wait and see approach to face-to-face classes.
The Gerindra party politician maintained his stance on Friday, despite Minister of Education, Culture, Research and Development Nadiem Makarim's assertion that they are safe to hold.
''The Jakarta Provincial Administration we will assess the facts and data on Covid-19 cases [in the capital] before we reopen schools," Riza said.
"While we appreciate Nadiem's request [to reopen schools, the existence of Covid-19 cases [in Jakarta] should be taken into consideration."
Riza pointed out that Covid-19 cases in the capital is starting to increase. "The surge in cases can be traced to the numbers of people who are starting to stream back to Jakarta from the Eid al-Fitr or Idul Fitri holidays," he added.
"Aside from rising case numbers, new Covid-19 variants from Great Britain, India and South Africa has been found in Jakarta." Riza suggested that schools and their faculty and staff refrain from prematurely holding face-to-face classes.
Last Wednesday,Nadiem announced that Indonesia is ready to reopen schools despite the increase in Covid-19 classes after the Idul Fitri holidays, because malls, offices and other public buildings have reopened.
Source:
https://megapolitan.kompas.com/read/2021/06/05/06412561/soal-sekolah-tatap-muka-di-dki-wagub-kita-harus-lihat-fakta-kasus-covid.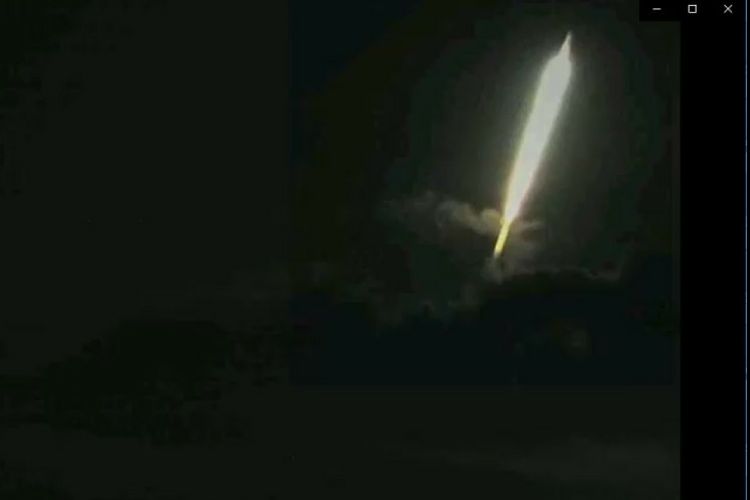 A streak of light, accompanied by a sonic boom, occurred over Mount Raung in Banyuwangi, East Java Friday (4/6/2021)
Surveillance Cameras Catch Sight of Mysterious Lights and Booms Over Banyuwangi, East Java
Surveillance cameras installed to catch wildlife and other sights on Mount Raung in East Java's Banyuwangi Regency has captured a rare find they least expected.
Instead of a Javanese tiger or other extinct species, the cameras caught a sight that is more akin to UFOs (unidentified flying objects) on Friday night.
"CCTV cameras caught sight of a flash of light around the peak of Mount Raung. We also heard a mysterious boom," said Mukijo, the Volcano Observation Post (PPGA) head for the area.
"We are unsure about the origins of the light and sound. But we are certain it was not volcanic activity."
Mukijo asserted that the PPGA for Mount Raung deals with volcanic activity, not for any phenomena in the skies. "The boom was also heard in other areas, such as the neighboring district of Bondowoso and the Kalibaru district," he said.
Source:
https://regional.kompas.com/read/2021/06/05/070640678/teka-teki-kilatan-cahaya-dan-suara-dentuman-terekam-kamera-pengamat-di-atas?page=all#page2.
Dapatkan update berita pilihan dan breaking news setiap hari dari Kompas.com. Mari bergabung di Grup Telegram "Kompas.com News Update", caranya klik link https://t.me/kompascomupdate, kemudian join. Anda harus install aplikasi Telegram terlebih dulu di ponsel.