JAKARTA, KOMPAS.com – Indonesian Minister for State Owned Enterprises Erick Thohir might win kudos for overhauling state-owned companies.
These included his purge of Indonesian pharmaceutical company Kimia Farma's top brass over a Covid-19 rapid test kit scandal last April.
Yet the former Inter Milan boss raised eyebrows when he appointed Abdi Negara Nurdin aka Abdee Negara or Abdee Slank, the lead guitarist of Indonesian rock band Slank, as an Independent Commissioner of state-owned telecommunications company Telkom Indonesia.
Erick slated the 52 year-old into Telkom's board to serve under former Minister of Research and Technology Bambang Brodjonegoro, who was named Telkom's President-Director.
Also read: Indonesian Minister for State Enterprises Shakes Up Kimia Farma Board
Abdee will serve alongside fellow Independent Commissioner Bono Daru Adji, as well as new Telkom Commissioner Isa Rachmatarwata and Arya Sinulingga.
The incoming management replaced outgoing Telkom President-Director Rhenald Kasali, Independent Commissioners Marsudi Wahyu Kisworo and Chandra Arie Setiawan, as well as Commissioners Alex Denni and Ahmad Fikri Assegaf last Friday.
The backlash against the musical outsider came almost immediately.
Parliamentarian Amin Ak from the opposition Social Justice Party or PKS did not mince words over Abdee's appointment.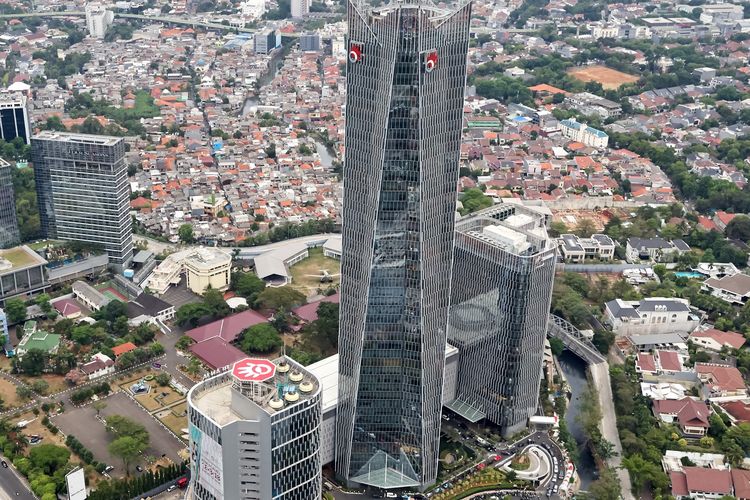 Telkom Indonesia headquarters in Jakarta
"[Erick Thohir's] consideration in appointing [Abdee] was more about his contribution to President Jokowi's successful presidential runs [in 2014 and 2019]," he said.
"It had nothing to do with [Abdee's] actual competence or fitness for office," added the House of Representatives member of Commission VI on trade, industry, investment, cooperatives, small and medium businesses and state-owned companies.
Amin noted that Jokowi supporters like Abdee, Fadjroel Rachman, Andi Gani Nena Wea and Ulin Yusron "run counter to the principles of Good Corporate Governance," he lamented.
"The disregard of these principles caused many Indonesian state run companies to incur financial losses and keep them from making any meaningful progress."
Trisakti University Public Policy observer Trubus Rahadiansyah is just as scathing. "[Abdee's] appointment is nothing more than giving away political spoils," he pointed out.
Also read: Indonesia Seeks Investments From Singapore
"The giving away of senior positions to Jokowi supporters or volunteers is counterproductive and set a bad precedent for his successors. It also counters the job description of a commissioner, which is to ensure that the company meets its targets."
Trubus also questioned Abdee's appointment due to his lack of experience in telecommunications.
"Abdee's standing as a commissioner will only hamper his fellow commissioners with the necessary experience. This is critical, as [Indonesia] sorely needs innovators."
Abdee and the rest of Slank are known high-profile supporters of Jokowi, since the former Jakarta Governor took Indonesian politics by storm during his 2014 presidential run, then reprised his success by winning reelection in 2019.
(Writer: Ardito Ramadhan | Editors: Akhdi Martin Pratama, Sabrina Asril, Icha Rastika)
Sources:
https://money.kompas.com/read/2021/05/28/191500326/abdee-slank-pendukung-jokowi-yang-diangkat-jadi-komisaris-telkom?page=all.
https://nasional.kompas.com/read/2021/05/29/12403481/abdee-slank-jadi-komisaris-telkom-hanya-bagi-bagi-jabatan-telkom-jadi-korban.
https://nasional.kompas.com/read/2021/05/29/10380901/abdee-slank-jadi-komisaris-telkom-pengamat-tak-lebih-dari-bagi-bagi-kue.
Dapatkan update berita pilihan dan breaking news setiap hari dari Kompas.com. Mari bergabung di Grup Telegram "Kompas.com News Update", caranya klik link https://t.me/kompascomupdate, kemudian join. Anda harus install aplikasi Telegram terlebih dulu di ponsel.