JAKARTA, KOMPAS.com – Senior Presidential Office staffer Ali Mochtar Ngabalin has denied allegations by judges in the East Jakarta State Court that authorities discriminated against firebrand cleric Rizieq Shihab, even after they found him guilty of violating health protocols in November 2020.
"The judges' assertion that the authorities unfairly discriminated Rizieq's followers as they converged in Megamendung, West Java and the Petamburan district in Central Jakarta in November was inaccurate," he said of Rizieq, the former head of the outlawed Islamic Defenders Front or FPI.
Speaking on Friday, Ngabalin said "Rizieq disregarded the authorities' calls to comply with health protocols, and organized mass gatherings at Megamendung and Petamburan despite the high probability of Covid-19 transmission from the crowds at the event."
Nothing in common
He maintained that there is no similarity with the mass gathering of people at the town of Maumere in East Nusa Tenggara Province, who turned out to see President Joko 'Jokowi' Widodo when he went there for a working visit on February 23.
"[The Maumere gathering] occurred spontaneously as people wanted to welcome President Jokowi to the city." He denied that the authorities went easy on crowds at the latter event, as he pointed out they dispersed the crowds.
East Jakarta State Court Judge Djohan Arifin first voiced allegations of preferential treatment between the Megamendung and Petamburan mass rallies held by the FPI, and the impromptu gatherings held by the citizens of Maumere to welcome Jokowi.
"The [Megamendung, Petamburan and Maumere] gatherings showed a marked difference in treatment that should not have happened in Indonesia, which prides itself as a country based on laws, not on power," he said on behalf of the panel of judges.
Also read: Indonesian Court to Deliver Verdict on Islamic Firebrand Rizieq Shihab
"The crowds' disregard of health protocols is caused by their weariness with health protocols and other constraints imposed by the Covid-19 pandemic, and the preferential treatment of some segments of the public compared to others."
The judges ruled that Rizieq violated a 2018 law on public quarantines when he held the Megamendung and Petamburan gatherings. They, also sentenced Rizieq to a Rp. 20 million [$1,398.68] fine and eight months behind bars for the respective charges.
The court gave the same sentences to Rizieq's fellow defendants in Petambura, namely Haris Ubaidillah, Ahmad Sabri Lubis, Ali Alwi Alatas, Idrus alias Idrus Al-Habsyi, dan Maman Suryadi.
Lead Judge Suparman Nyompa added that he faces an additional five months in jail, if he failed to pay the fine.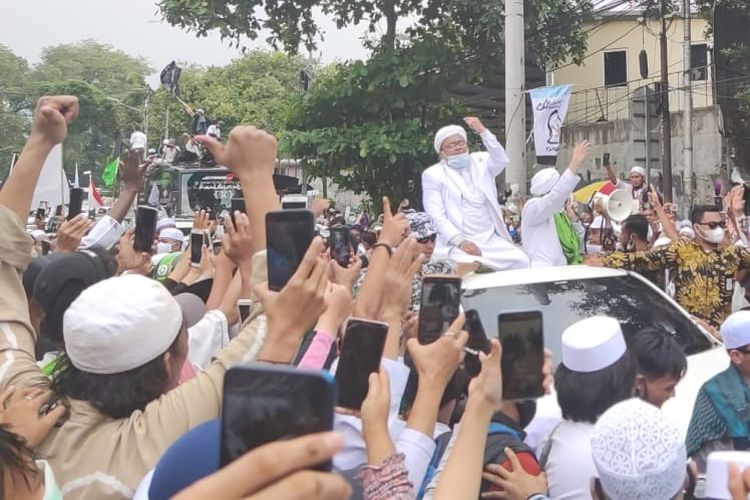 Rizieq Shihab greets his followers as they welcomed him home in Central Jakarta's Petamburan district on Tuesday, (10/11/2020).
"The incriminating evidence against Rizieq was that he failed to comply with the government's plan to prevent Covid-19, and orienting the rules and regulations to his followers," the judge said.
"The mitigating factor against Rizieq was that he met his pledge to prevent his followers from coming to his trial."