JAKARTA, KOMPAS.com – Indonesian Minister of State-Owned Enterprises [BUMN] Erick Thohir has recently ousted the directors of Kimia Farma Diagnostika [KFD], a subsidiary of the Kimia Farma state-owned pharmaceutical company over the Eid al-Fitr or Idul Fitri holidays.
The move comes less than a month after police in North Sumatra province arrested five Kimia Farma Diagnostika employees at the end of April for reusing old rapid test kits in a racket dating to December 2020.
Erick decided to give KFD President-Director Adil Fadila Bulqini and General Finances as well as Human Resources Director Ilham Sabariman their marching orders, on grounds that the scandal undermined public confidence in the government,.
Also read: Indonesian Minister For State Enterprises Shakes Up Kimia Farma Board
"We deemed that KFD has strayed from core values of state-owned enterprises, namely serve, protect and work for the common good. Regardless of the individual or their standing, they are free to try another line of work" he said in a press release on Monday, May 17.
"As a health services company, public confidence stemming from quality service is non-negotiable. [The ouster] is not a punitive measure, but our way of ensuring [Kimia Farma Diagnostika] and other state-owned enterprises comply with those core values."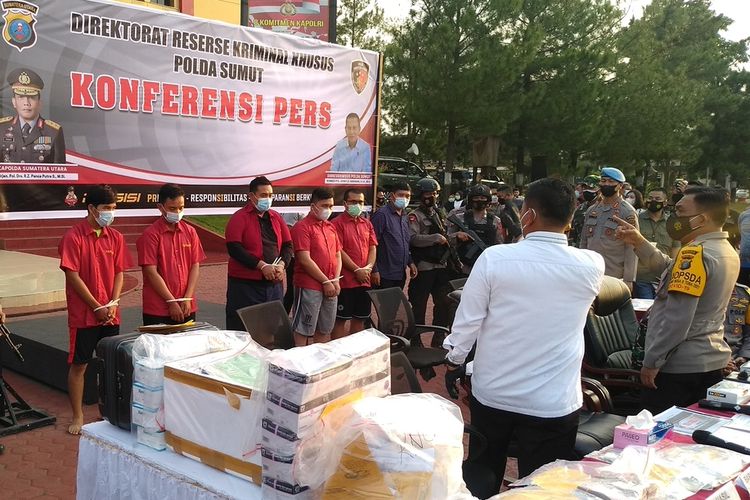 The Kimia Farma personnel suspected of reusing old rapid test samples on travelers at North Sumatra's Kualanamu International Airport, along with samples of their wrongdoing, at a police press conference in the North Sumatra provincial capital Medan on Thursday (29/4/2021)
The former Inter Milan owner noted that "The existence of the used rapid test ring indicated a weakness in the system. If allowed to continue, it will affect the public's trust [in State-Owned companies]."
Erick also informed that an independent team of auditors are going through the books of all labs under Kimia Farma, including Kimia Farma Diagnostika.
Also read: Indonesian Police Bust Medical Workers Reusing Old Rapid Test Kits
While both parties reviewed their standard operating procedures or SOP, it did not stop Erick from firing the guilty parties or allowing lawmakers to press charges against them.