MEDAN, KOMPAS.com – Police in Indonesia's North Sumatra Province has busted a ring of health workers from the state-owned Kimia Farma Diagnostika pharmaceutical company, after they reused previously used rapid test kits on travelers at the Kualanamu International Airport.
North Sumatra Regional Police spokesman Police Grand Commissioner Hadi Wahyudi said the police arrested five medical workers in the undercover sting.
"We carried out the operation after [the Regional Police's] Special Crimes Directorate [Ditreskrimsus] received a tip from [travelers] who used the antigen rapid tests at Kualanamu Airport," Hadi noted on Wednesday, April 28.
"They reported that the test kits they were using has already been used. The Ditreskrimsus then sent Police Commissioner Attendant [AKP] Jericho Levian and his men to carry out an investigation. "
Going undercover
Hadi added that AKP Jericho and his men posed as airline passengers at the airport and allowed the medical workers from Kimia Farma to carry out the antigen rapid tests. The tests included taking samples from their nose.
Also read: Jakarta Police Nab Indonesian Citizen Arriving From India For Evading Quarantine
"The investigators' suspicions increased after the tests indicated them to be positive for Covid-19. Sceptical of the results, the policemen examined the antigen rapid test labs, then interrogated the Kimia Farma Diagnostika personnel," he asserted.
"The health workers admitted to the police that they used old rapid test samples on the passengers."
Reusing rapid test samples
According to Hadi, "the Kimia Farma Diagnostika health workers' modus operandi included washing the used rapid test kits and replacing them. The police arrested the Kimia Farma medical workers based on the evidence and their admission."
Kimia Farma Diagnostika's parent company, Kimia Farma, has come clean about their employees' actions.
Also read: Indonesia's Health Minister Urges Vigilance Against Local Transmission of UK Covid-19 Variant
"The medical workers' actions have discredited [Kimia Farma] and violated our standard operating procedures [SOP]," said Kimia Farma President-Director Adil Fadhilah Bulgini in a written statement to Kompas.com on Wednesday.
"We are carrying out our own investigation with law enforcement and are giving them our full support."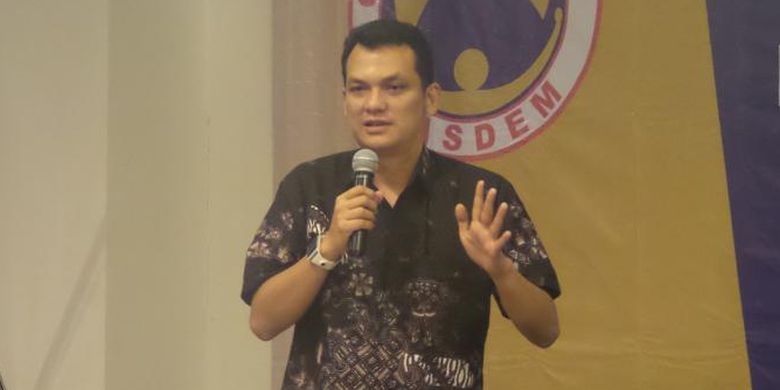 Nasdem Party legislator Martin Manurung
Legislators weigh in on the scandal
Kimia Farma's commitment is still not enough for legislator Martin Manurung of the National Democratic [Nasdem] Party, who expressed his outrage at the health workers' actions.
"The Ministry of State Owned Enterprises must supervise Kimia Farma," said Martin, who is also the deputy chairman of Commission VI on Trade, Industry, Investment, Cooperatives, Small, Medium Businesses and state-owned companies.
"Kimia Farma's findings have to be clear and transparent, as there is a possibility that this racket is not confined to Kualanamu Airport."
Martin also warned that the circulation of used antigen rapid test kits could create public distrust of state-owned companies like Kimia Farma.
(Writers: Haryanti Puspa Sari, Rahel Narda Chaterine | Editors: Abba Gabrillin, Bayu Galih, Dani Prabowo)
Sources:
https://regional.kompas.com/read/2021/04/28/163016278/polisi-menyamar-untuk-bongkar-kasus-rapid-test-bekas-di-bandara-kualanamu?page=all#page2.
https://nasional.kompas.com/read/2021/04/28/14510631/kasus-rapid-test-antigen-bekas-di-bandara-kimia-farma-sebut-pelanggaran?page=all#page2.
https://nasional.kompas.com/read/2021/04/28/22253011/soal-rapid-test-antigen-bekas-pimpinan-komisi-vi-dpr-minta-kementerian-bumn.
Dapatkan update berita pilihan dan breaking news setiap hari dari Kompas.com. Mari bergabung di Grup Telegram "Kompas.com News Update", caranya klik link https://t.me/kompascomupdate, kemudian join. Anda harus install aplikasi Telegram terlebih dulu di ponsel.