JAKARTA, KOMPAS.com – The Jakarta Metropolitan Police has arrested an Indonesian national for evading quarantine, after the traveler returned from India in the company of hundreds of Indonesians and Indian nationals fleeing from the rampant Covid-19 outbreak in the country.
Jakarta Metropolitan Police spokesman Police Grand Commissioner Yusri Yunus said the traveler, who was identified as JD, was nabbed along with their accomplices.
"JD paid Rp. 6.5 million [$447.77] to two individuals, who were identified as RW and S, to avoid the 14-day quarantine that is required of all persons who arrived to Indonesia from India," he explained to the press Tuesday. "The two told JD that they are health protocol officers at the airport."
Also read: 454 Indians Entered Indonesia's Soekarno-Hatta Airport in April 2021
Yusri added that investigators found proof of the bribe to RW and S in JD's bank account. "We are still trying to determine how JD was able to evade quarantine.
Arriving passengers from usually go through checks on health protocols and a physical before they are referred for quarantine," he said.
The head of the Covid-19 Task Force for Soekarno-Hatta International Airport confirmed the existence of the 'quarantine mafia' occurred, but with a slight clarification.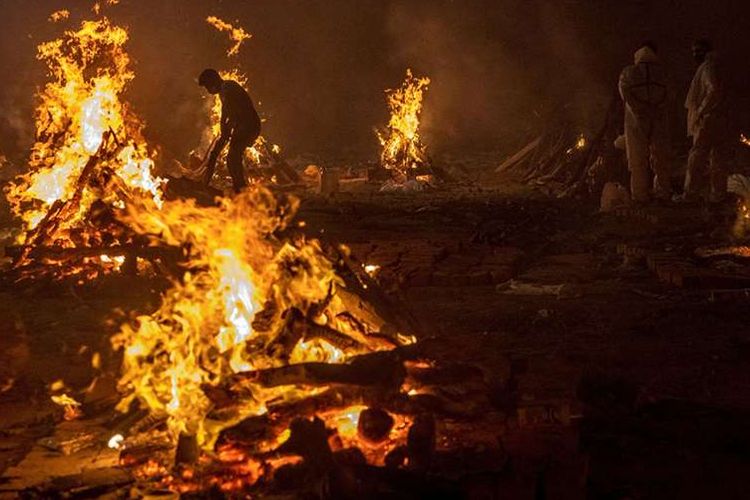 A makeshift crematorium in India deals with the remains of people who died of Covid-19 in New Delhi on Saturday (24/4/2021). India is the country hardest hit by the pandemic in the world, as the number of cases jumped over 17 million.
"The two individuals behind the Soekarno-Hatta scam did not work for the airport," said Task Force chief Colonel Pas MA Silaban.
"There is a possibility that they worked for other institutions at the airport. That is how RW and S have access cards to various parts of the airport, which they misused for their own interests." He added that his office will work closely with the police and the Soekarno-Hatta Airport Authority.
Soekarno-Hatta Executive General Manager Agus Haryadi confirmed the Task Force's findings, though he did not specify where they worked. "I urge the Angkasa Pura II air travel insurance company and other institutions to comply with the rules currently in force at Soekarno-Hatta."