JAKARTA, KOMPAS.com – The Indonesian Navy [TNI AL] has announced that it will open an inquiry into the sinking of the submarine KRI Nanggala-402, less than a week after it sank in the Java Sea, 95 kilometers off Bali on Wednesday, April 21.
"The investigation into the loss of KRI Nanggala-402 will involve experts in the submarine's use as well as their construction," said Indonesian Navy spokesman Rear Admiral Muhammad Ali on Tuesday, April 27.
"We will not involve observers, especially if they are merely talking heads." Ali added that the submarine is still seaworthy until September 2022 at the time of the accident. He also denied speculation that the ship's sinking was caused by its weight.
Also read: Sunken KRI Nanggala 402 Vessel: Adieu, Gallant Sailors!
"We deny reports by the media and analysts which speculated that KRI Nanggala-402 has sunk because it was weighed down by excess equipment or overcrowding as groundless," he asserted.
"The vessel is used to carrying more than 50 crewmen as well as seven special forces soldiers for infiltration missions. When it capsized, KRI Nanggala-402 only carried a crew of 53 men and a payload of three torpedoes."
Ali maintained that weight was never an issue, because the KRI Nanggala-402 was "designed to carry eight two-ton torpedoes, and it has been at sea for years on end and never had any problems."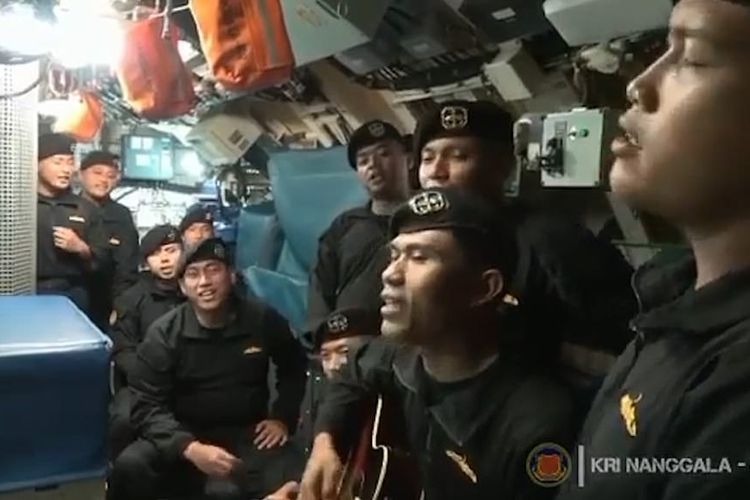 The crew of the KRI Nanggala-402 weeks before the submarine sank off the northern coast of Bali on Wednesday (21/4/2021)
"So to say excess weight was a cause for the submarine's sinking is very groundless, very inaccurate and absolutely wrong," he said of the Type 209 submarine, which was built in Germany in 1977 and commissioned in the Indonesian Navy in 1981.
KRI Nanggala-402 lost contact with its base in Surabaya, East Java, as the submarine was carrying out torpedo drills off the northern coast of Bali prior to scheduled exercises in the area.
The search for the ship became an international effort, as the US Navy sent a P-8 Poseidon antisubmarine aircraft to find the KRI Nanggala-402, while Singapore sent the submarine rescue ship MV Swift Rescue for the same purpose.