KOMPAS.com - Eid al-Fitr, or also known as Idul Fitri in Malay-speaking countries, is the festival that marks the end of the holy month of Ramadan and welcomes the arrival of Syawal month for Muslims. On the first day of Syawal, they will perform Eid prayers in the morning followed by feasting with family and friends.
Traditional meals and sweets to celebrate the festival will be served during their get-together events. In Indonesia, Eid meals usually include festive favorites such as semur (meat stew), chicken opor (chicken cooked in coconut milk), and ketupat (rice cakes).
Despite an overarching theme, food served on Eid is influenced by local customs and culture. Different countries have different Eid traditions for food. Below are 12 Eid food traditions from various countries in the world:
1. Maamoul - Middle East
This special recipe is usually prepared by the Middle Easterners in Syria and Lebanon on a special day. Maamoul is buttery cookies filled with dates, walnuts, or pistachios and are usually coated with powdered sugar.
Cookies similar to maamoul can also be found in Iraq, Sudan, and Egypt. The cake is called kleicha.
2. Cambaabur - Somalia
Cambaabur is Somalian bread that is similar to injera, an African bread but has different spices. In Somalia, Eid celebrations are considered incomplete without cambaabur. These delicious bread sprinkled with sugar and yogurt are served in almost every house in Somalia.
Apart from Somalia, the cambaabur recipe is also very popular in Djibouti, Africa.
3. Sheer khurma - South Asia
Illustration of sheer khurma.
Sheer khurma means milk with date, the dried fruits. This sweet dessert is a favorite in Pakistan, India, Bangladesh, and Afghanistan.
It is cooked with milk, sugar, toasted noodles, and dates. This dish can be added with pistachios, almonds, or raisins, depending on the country. Served both hot and cold, it is a must-have item on Eid day in every household.
4. Tajine - Morocco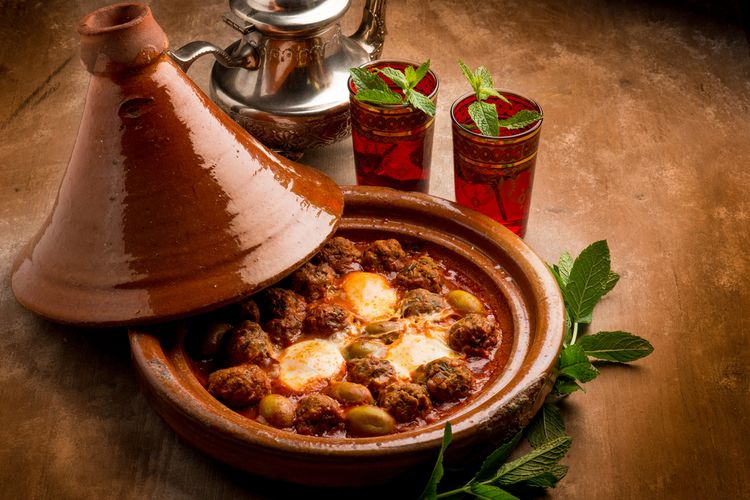 Illustration of tajine.
Eid is not only filled with sumptuous and sweet desserts. Dishes made of meat are also prepared in several countries during Eid, one of which is
tajine
.
Tajine is a slow-cooked stew made of several types of meat such as lamb or beef with vegetables or fruits, such as prunes and apricots. Tajine is often served in North African countries, such as Morocco and Algeria.