JAKARTA, KOMPAS.com – The Covid-19 pandemic continues to cast its shadow over various facets of Indonesian life, including the country's premier Islamic holiday.
Minister of Religious Affairs Yaqut Cholil Qoumas urged merrymakers not to hit the streets for takbiran, or traditional celebrations for the eve of the Eid al-Fitr or Idul Fitri.religious holiday, in case the gatherings attract crowds.
Indonesian National Police chief General Listyo Sigit Prabowo urged the country's preeminent airport, the Soekarno Hatta International Airport, to impose stricter controls on all arrivals.
And Indonesia has sent oxygen concentrators and tanks to India to help the country deal with its surge of Covid-19 cases. This and more on Indonesia Highlights: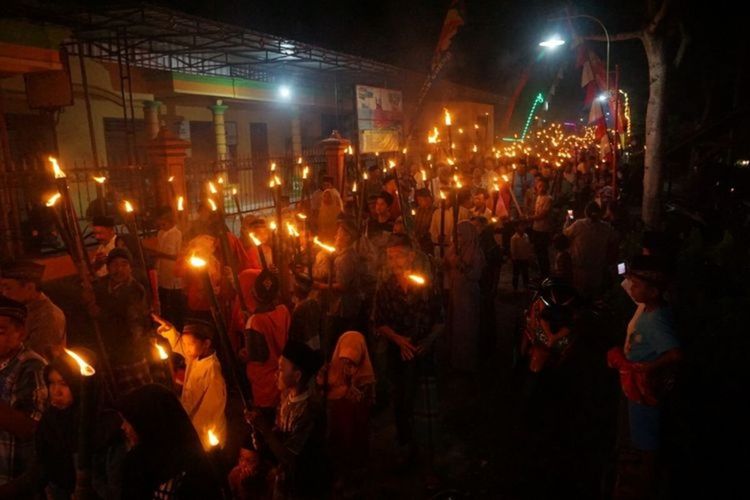 People carry bamboo torches aloft during takbiran, chanting Allah is great, on the eve of Idul Fitri.
Eid al-Fitr Celebrations in Indonesia Toned Down over Covid-19
Indonesian Minister of Religious Affairs Yaqut Cholil Qoumas urged Muslim worshipers not to organize takbir (recitation of God is Great) convoys that are traditionally organized on the eve of Eid al-Fitr or Idul Fitri to avoid crowds amid the Covid-19 pandemic.
"There will be no takbir event on the streets as it could potentially gather crowds and spread the coronavirus," said Yaqut on Tuesday. "Let's celebrate Eid and follow the health protocols."
He suggested Muslim worshippers to hold takbir events at their homes, prayer halls, or mosques with only a limited number of attendees.
Indonesia's premier mosque, the Istiqlal Mosque, will also cancel their morning Eid prayers.
"For starters, Indonesia is still trapped in an endless first wave of Covid-19," said Abu Hurairah, deputy head of the Religious Affairs of the Istiqlal Mosque.
"The decision was also ordered by Coordinating Minister for Human and Cultural Empowerment Muhadjir Effendy and Religious Affairs Minister Yaqut Cholil Qoumas. Jakarta Governor Anies Baswedan has also made a similar request to cancel the Eid prayers."