JAKARTA, KOMPAS.com – The Covid-19 pandemic continues to cast its shadow over various facets of Indonesian life, including the country's premier Islamic holiday.
Minister of Religious Affairs Yaqut Cholil Qoumas urged merrymakers not to hit the streets for takbiran, or traditional celebrations for the eve of the Eid al-Fitr or Idul Fitri.religious holiday, in case the gatherings attract crowds.
Indonesian National Police chief General Listyo Sigit Prabowo urged the country's preeminent airport, the Soekarno Hatta International Airport, to impose stricter controls on all arrivals.
And Indonesia has sent oxygen concentrators and tanks to India to help the country deal with its surge of Covid-19 cases. This and more on Indonesia Highlights: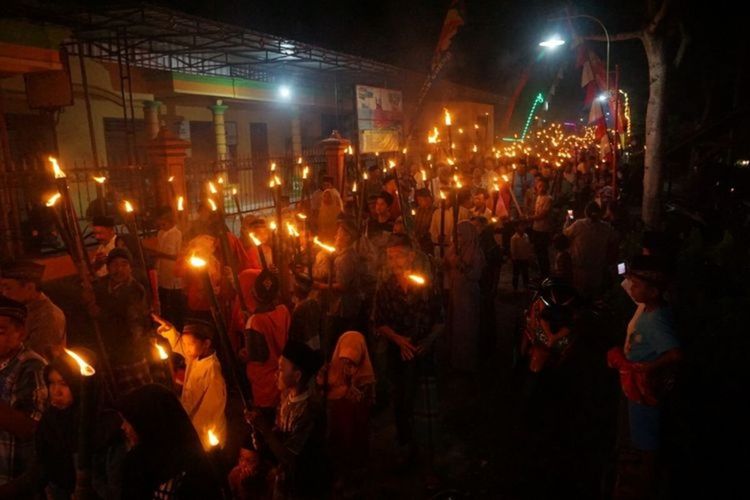 People carry bamboo torches aloft during takbiran, chanting Allah is great, on the eve of Idul Fitri.
Eid al-Fitr Celebrations in Indonesia Toned Down over Covid-19
Indonesian Minister of Religious Affairs Yaqut Cholil Qoumas urged Muslim worshipers not to organize takbir (recitation of God is Great) convoys that are traditionally organized on the eve of Eid al-Fitr or Idul Fitri to avoid crowds amid the Covid-19 pandemic.
"There will be no takbir event on the streets as it could potentially gather crowds and spread the coronavirus," said Yaqut on Tuesday. "Let's celebrate Eid and follow the health protocols."
He suggested Muslim worshippers to hold takbir events at their homes, prayer halls, or mosques with only a limited number of attendees.
Indonesia's premier mosque, the Istiqlal Mosque, will also cancel their morning Eid prayers.
"For starters, Indonesia is still trapped in an endless first wave of Covid-19," said Abu Hurairah, deputy head of the Religious Affairs of the Istiqlal Mosque.
"The decision was also ordered by Coordinating Minister for Human and Cultural Empowerment Muhadjir Effendy and Religious Affairs Minister Yaqut Cholil Qoumas. Jakarta Governor Anies Baswedan has also made a similar request to cancel the Eid prayers."
The government announced that Eid Al-Fitr celebrations will begin on Thursday, May 13 after relevant agencies organized an isbat (confirmation) meeting on Tuesday, May 11 to determine the first day of Syawal month.
Source:
https://go.kompas.com/read/2021/05/12/163236474/eid-al-fitr-celebrations-in-indonesia-toned-down-over-covid-19.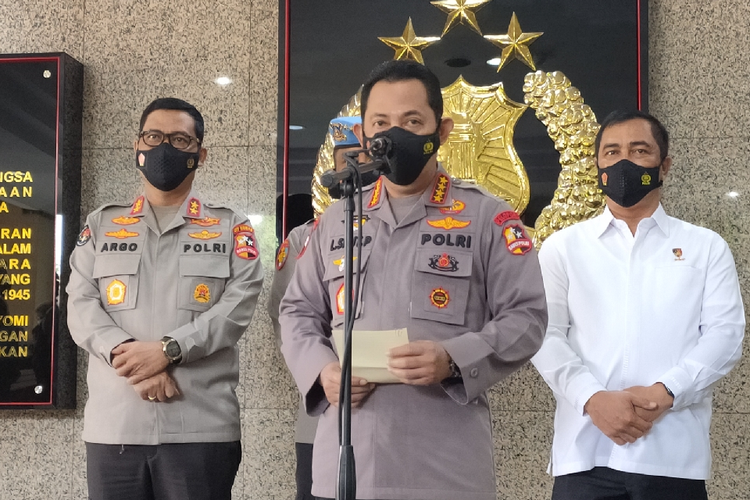 National Police Chief General Listyo Sigit Prabowo at a press conference at National Police Headquarters, Jakarta, Wednesday, April 28.
Indonesia Police Urges Strict Control Policy of Arrivals at Soekarno-Hatta Airport
National Police Chief General Listyo Sigit Prabowo urged Soekarno-Hatta Airport near Jakarta to increase controls on all arrivals amid the pandemic.
"[The authorities] have two main tasks. First, how do we closely monitor the arrival of foreigners and Indonesian citizens from abroad," said Listyo during his visit to Soekarno-Hatta Airport on Wednesday, May 12.
"There is a need to ask inbound passengers to undergo another coronavirus PCR test upon arrival, even though they have already presented a negative coronavirus PCR test from the country of origin," he maintained.
"If their body temperatures rise above normal after temperature checks, the passenger must take a Covid-19 antigen test."
The second main task, Listyo said, relevant officers must impose strict health protocols on inbound and outbound passengers. "In entry points such as at the airport, we must implement stricter health protocols at entry points such as the airport," he said
"If [the airport sub precinct police] are short-handed, they can ask the Jakarta Metropolitan Police or the Police Headquarters to provide additional personnel."
He also said that the airport operator must anticipate the influx of passengers after the Eid al-Fitr celebrations. "I hope the airport will implement stricter control policies as this is a connecting gate to other areas," he said.
As of May 11, Indonesia reported a total of 1.7 million confirmed cases since the first two cases were found in March 2020 and 47,465 deaths, while 1.5 million patients have recovered.
The Indonesian government have banned chartered flights from overseas for the duration of the Eid al-Fitr holiday, which is until May 17.
Source:
https://go.kompas.com/read/2021/05/12/200954474/indonesia-police-urges-strict-control-policy-of-arrivals-at-soekarno-hatta.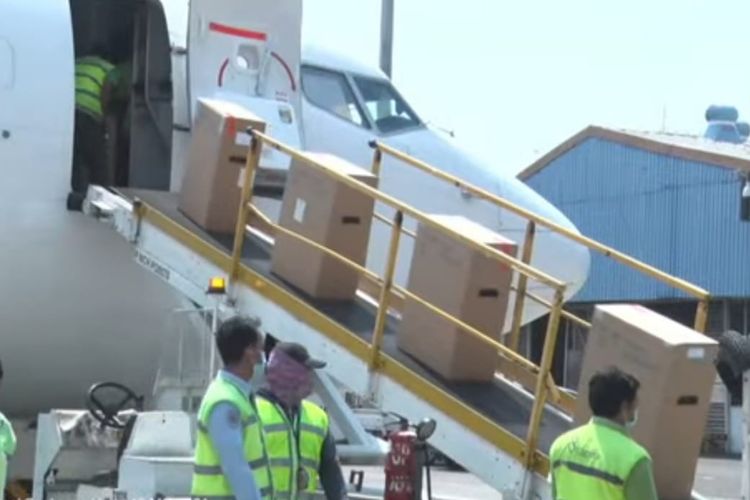 Indonesia sends humanitarian aid in the form of oxygen concentrators to India on Wednesday (12/5/2021).
Indonesia Sends Aid to India in the Form of Oxygen Tanks
Indonesia has sent 200 oxygen concentrators to India to help the country deal with its Covid-19 outbreak. The aid comes as the World Health Organization [WHO] reported that the country has 23,340,938 confirmed cases as of May 12.
Indonesian Minister of Foreign Affairs Retno Marsudi sent off the aid at Soekarno-Hatta International Airport in Tangerang, Banten on Wednesday, May 12.
"[The oxygen concentrators] are a form of humanitarian aid that reflects Indonesia's solidarity with India," she said.
"We sent the oxygen concentrators, two days after the Ministry of Industry and a number of business associations sent 1400 cylindrical oxygen tubes of about 40 liters to India. We hope that the aid will help India get its Covid-19 pandemic under control."
Minister of Industry Agus Gumiwang Kartasasmita noted that "India needs oxygen tanks in dealing with its Covid-19 cases. The aid is sent by the gas, petrochemical and textile industries," he said in a press release on Tuesday.
"The tubes are the first of 3500 units that we will send to India. Their need for oxygen is urgent, as the country has about 3900 deaths from Covid-19 on a daily basis, while they have nearly 400 thousand coronavirus cases during the same time period."
Indonesia has banned flights from India since the country's Covid-19 cases started to surge last April, leaving 254,197 deaths.
Hundreds of Indian nationals, as well as Indonesian citizens living in India, attempted to evade the surge by flying to Indonesia, many of them in chartered flights to such Indonesian cities as Jakarta and Pekanbaru.
The Indian strain of Covid-19, or B.1.617, is one of three foreign variants found in Indonesia, along with the B.1.1.7 mutation from Great Britain and the B.1.351 strain from South Africa.
Source:
https://go.kompas.com/read/2021/05/12/233236174/indonesia-sends-aid-to-india-in-the-form-of-oxygen-tanks?page=all#page2.
Dapatkan update berita pilihan dan breaking news setiap hari dari Kompas.com. Mari bergabung di Grup Telegram "Kompas.com News Update", caranya klik link https://t.me/kompascomupdate, kemudian join. Anda harus install aplikasi Telegram terlebih dulu di ponsel.