JAKARTA, KOMPAS.com – AstraZeneca's Covid-19 vaccine is in the spotlight two months after its use in Indonesia, after a 22 year-old man in Jakarta died 24 hours after taking his first shot of the vaccine.
Indonesian authorities have their hands full on the country's roads, as thousands of travelers headed home in defiance of the government's ban on homecoming travel.
But Indonesian police in Papua had more luck, as they arrested a Papuan independence agitator who has been on the wanted list for over the past two years.
This and more on Indonesia Highlights: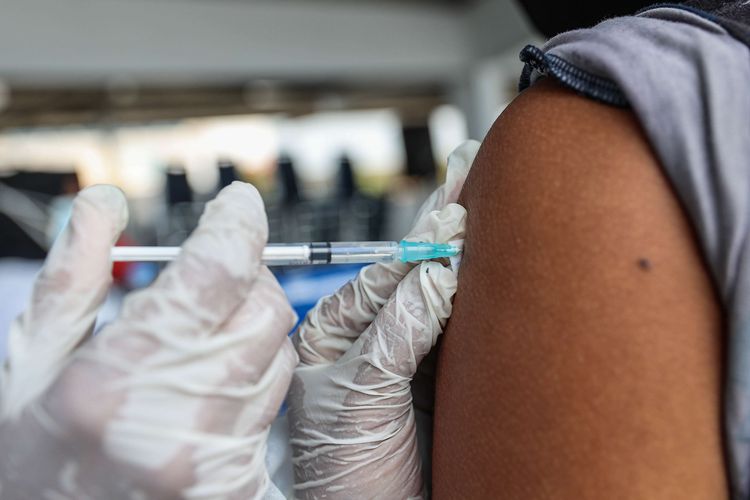 An Indonesian Navy (TNI AL) personnel gets injected with the AstraZeneca vaccine at Jakarta's Tanjung Priok military base on Friday (26/03/2021)
Indonesian Man Dies After Getting Vaccinated With AstraZeneca's Covid-19 Vaccine
Controversy continues to follow AstraZeneca's Covid-19 vaccine to Indonesia, after a young Indonesian man identified as Trio Fauqi Virdaus died 24 hours after he was injected with the vaccine on Wednesday, May 5.
The deceased's older brother, Viki, said the 22 year-old "was in good health before he received the AstraZeneca vaccine. He also has no pre-existing conditions," Viki said on Monday, May 10. Viki recalled that Trio felt unwell after his vaccination at the Gelora Bung Karno stadium.
"[Trio] said that he felt chills, fever and an unusually severe headache," he said. "The next morning Trio had the sahur [predawn meal for fasting] at 4.30 am, then his fever worsened and he went into shock. Trio then collapsed so we had to rush him to a hospital, where he died at noon."
Viki said he already reported Trio's death to the National Commission for Post Immunization Incidents or Komnas KIPI.
But Komnas KIPI head Hindra Irawan Satari maintained that the commission "has not gotten sufficient evidence to connect [Trio Fauqi Virdaus'] death to [AstraZeneca's] Covid-19 vaccination," he said.