JAKARTA, KOMPAS.com – Controversy continues to follow AstraZeneca's Covid-19 vaccine to Indonesia, after a young Indonesian man identified as Trio Fauqi Virdaus died 24 hours after he was injected with the vaccine last week on Wednesday, May 5.
The deceased's older brother, Viki, said the 22 year-old's passing has taken him by surprise. "[Trio] was in perfectly good health before he was vaccinated with the AstraZeneca vaccine. He also has no pre-existing conditions," Viki said on Monday, May 10.
Seemingly mundane symptoms
"The worst symptoms he has shown are of the common cold and sore throat, or at worst, typhus. However, he often comes home late, so I suggested that he check his blood pressure in case he was exhausted or lacked sleep."
Viki recalled that Trio felt unwell as he arrived home at 4 pm after his vaccination at the Gelora Bung Karno stadium.
Also read: Indonesia Receives Third Batch of Covid-19 Vaccines From AstraZeneca
"[Trio] said that he felt chills, fever and an unusually severe headache. He also refused my mother's offer to give him an analgesic medication to ease his condition," he said.
"The next morning Trio had the sahur [predawn meal for fasting] at 4.30 am, then his fever worsened and he went into shock. Trio then collapsed so we had to rush him to a hospital."
Viki asserted that his younger brother's condition deteriorated quickly within hours. "By the time a doctor checked Trio's pulse at 12.30 pm, he was already dead."
Viki said he already reported Trio's death to the National Commission for Post Immunization Incidents or Komnas KIPI about Trio's passing, and that he has not heard from them.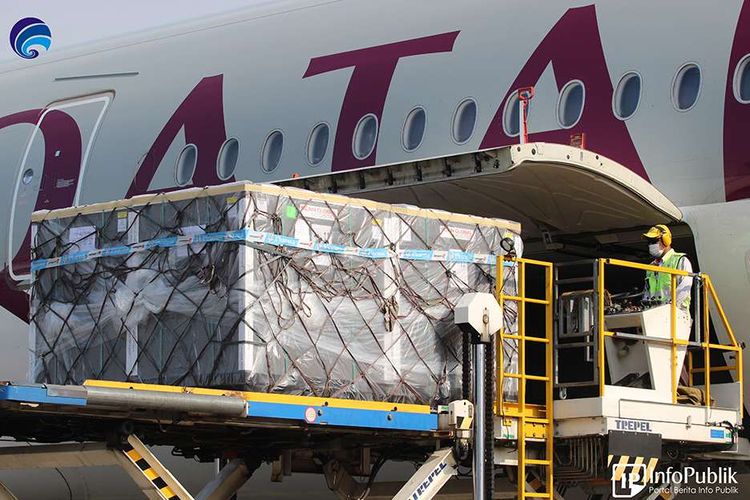 Officials at Soekarno Hatta International Airport receive 1,3 million doses that make up the third batch of AstraZeneca's Covid-19 vaccine on Saturday (8/5/2021)