JAKARTA, KOMPAS.com – AstraZeneca's Covid-19 vaccine is in the spotlight two months after its use in Indonesia, after a 22 year-old man in Jakarta died 24 hours after taking his first shot of the vaccine.
Indonesian authorities have their hands full on the country's roads, as thousands of travelers headed home in defiance of the government's ban on homecoming travel.
But Indonesian police in Papua had more luck, as they arrested a Papuan independence agitator who has been on the wanted list for over the past two years.
This and more on Indonesia Highlights: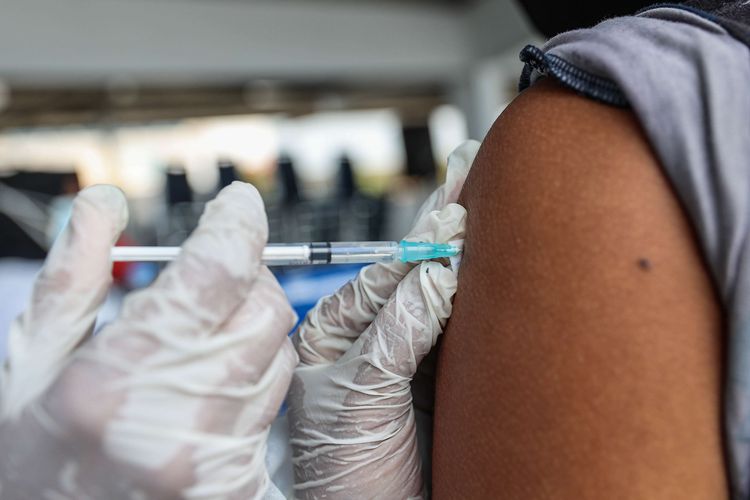 An Indonesian Navy (TNI AL) personnel gets injected with the AstraZeneca vaccine at Jakarta's Tanjung Priok military base on Friday (26/03/2021)
Indonesian Man Dies After Getting Vaccinated With AstraZeneca's Covid-19 Vaccine
Controversy continues to follow AstraZeneca's Covid-19 vaccine to Indonesia, after a young Indonesian man identified as Trio Fauqi Virdaus died 24 hours after he was injected with the vaccine on Wednesday, May 5.
The deceased's older brother, Viki, said the 22 year-old "was in good health before he received the AstraZeneca vaccine. He also has no pre-existing conditions," Viki said on Monday, May 10. Viki recalled that Trio felt unwell after his vaccination at the Gelora Bung Karno stadium.
"[Trio] said that he felt chills, fever and an unusually severe headache," he said. "The next morning Trio had the sahur [predawn meal for fasting] at 4.30 am, then his fever worsened and he went into shock. Trio then collapsed so we had to rush him to a hospital, where he died at noon."
Viki said he already reported Trio's death to the National Commission for Post Immunization Incidents or Komnas KIPI.
But Komnas KIPI head Hindra Irawan Satari maintained that the commission "has not gotten sufficient evidence to connect [Trio Fauqi Virdaus'] death to [AstraZeneca's] Covid-19 vaccination," he said.
Jakarta governor Anies Baswedan urged the Ministry of Health to investigate Trio's death, as it occurred "when the government is trying to build public confidence in vaccinations."
The deputy head of Parliament's Commission IX on demographics, health, manpower and transmigration Melkiades Laka Lena called "on the government and the Food and Drug Agency [BPOM] to be careful in using the AstraZeneca vaccine."
He noted that a number of European countries discontinued its use. Indonesia has 6,410,500 doses of the AstraZeneca vaccine, which arrived in the country in three batches since last March.
Source:
https://go.kompas.com/read/2021/05/11/075851674/indonesian-man-dies-after-getting-vaccinated-with-astrazenecas-covid-19-vaccine?page=all#page4.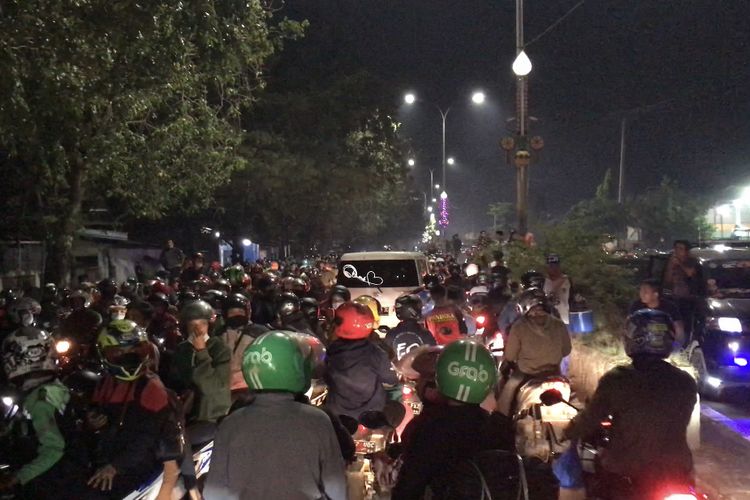 Motorists on Java's Northern Coast Road head home for the Eid al-Fitr or Idul Fitri holidays, in defiance of a government ban on holiday travels
Indonesian Homecoming Travelers Continue to Defy Travel Ban
Thousands of motor vehicles filled the Northern Coast [Pantura] between the West Java cities of Bekasi and Karawang in the early hours of Tuesday, May 11, as they headed to their hometowns in defiance of a government ban on homecoming travel for the Eid al-Fitr or Idul Fitri holidays.
According to Kompas.com, the motorists took, the majority of whom are motorcyclists, too up both lanes, congesting the roads. As in the early hours of Monday, a number of them went the opposite direction to get past barricades set up by the authorities and overwhelming traffic police.
"The traffic is virtually at a standstill for five kilometers on both lanes, especially as the travelers refused to turn around [to Jakarta]," said Bekasi Police Precinct chief Grand Police Commissioner Hendra Gunawan, as quoted by Kompas TV.
"We have coordinated with authorities in other cities such as Cirebon, Subang and other locales that set up barriers which are divided between those for cars and motorcycles."
The government banned local travel between urban agglomerations like those in Jakarta or other major Indonesian cities, as well as more far-flung provinces, to prevent a surge of cases such as those seen in India, after the Idul Fitri holidays.
Source:
https://megapolitan.kompas.com/read/2021/05/11/05065421/selasa-dini-hari-kemacetan-parah-kembali-terjadi-di-pos-penyekatan?page=all#page2.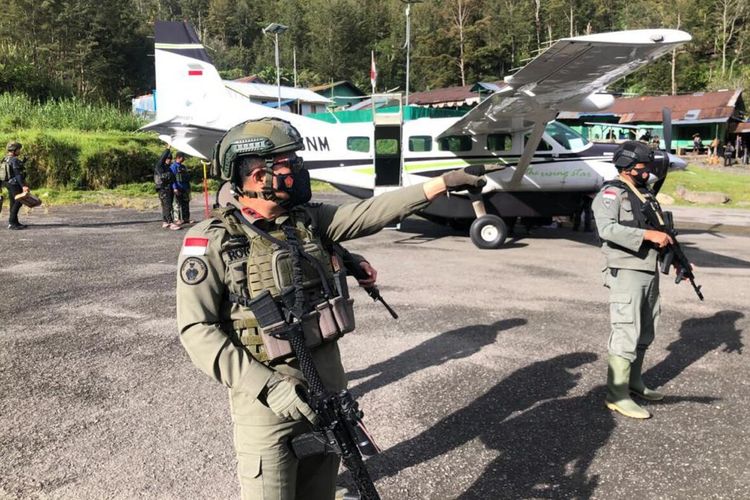 Personnel from the Indonesian National Police's Nemangkawi Task Force secure the airfield at the town of Beoga in Papua province's Puncak regency on Thursday, (15/4/2021)
Indonesian Police Arrest Papuan Separatist Agitator
Police in the Indonesian province of Papua has arrested Victor Yeimo, a Papuan agitator affiliated with the Free Papua Movement who has been suspected of masterminding riot in the restive territory between August to September 2019.
"The Nemangkawi Task Force captured Victor at the provincial capital Jayapura on Sunday, where he has been at large since September 2020," said Papua Regional Police chief Inspector General Mathius D. Fakhiri on Monday, May 10.
"Victor is wanted [for the August-September 2019 unrest] as well as a number of offenses," he added without specifying the charges. Nemangkawi Task Force head Police Grand Commissioner Iqbal Alqudusy reiterated Fakhiri.
"As the head of the National Committee of West Papua [KNPB], Victor was known as an agitator who made inflammatory speeches and masterminded a number of protests in Papua," he said, as quoted by the Antara state news agency.
Indonesian authorities charged Victor with treason, spreading misinformation, as well as defaming symbols of state in his role in the 2019 unrest.
If found guilty, he faces five to 15 years in prison, and fines of up to Rp. 500 million [$35,266.40].
The 2019 protests were caused by the racist treatment of 43 Papuan university students in Surabaya, East Java by Indonesian police and the Pemuda Pancasila [PP] and Islamic Defenders Front or FPI, after the authorities charged the students with insulting the Indonesian flag.
The resulting unrest, which also brought about calls for a referendum on Papuan independence, broke out in cities and towns throughout the provinces of Papua and West Papua such as Jayapura, Sorong and Wamena, as well as other parts of Indonesia.
The protests left more than 30 killed, injured hundreds of others and damaged government facilities as well as other buildings.
Source:
https://go.kompas.com/read/2021/05/11/022536874/indonesian-police-arrest-papuan-separatist-agitator?page=all#page2.
Dapatkan update berita pilihan dan breaking news setiap hari dari Kompas.com. Mari bergabung di Grup Telegram "Kompas.com News Update", caranya klik link https://t.me/kompascomupdate, kemudian join. Anda harus install aplikasi Telegram terlebih dulu di ponsel.