JAKARTA, KOMPAS.com – Indonesian President Joko Widodo has given a heroes' sendoff to the crew of the doomed Indonesian Navy submarine KRI Nanggala-402, as well as Indonesian military intelligence or BIN chief in Papua Brigadier General I Gusti Putu Danny Karya Nugraha,
However, those who spoke of the submarine disaster in less glowing terms received a drastically different reception, as they were nabbed by the police under Indonesia's controversial Electronic and Information Transaction Law or UU ITE. This and more on Indonesia Highlights:
Peoples carry flowers and pray for the entire crew of the KRI Nanggala-402 submarine who went missing in the waters north of Bali Island during a sympathetic action in Solo, Central Java, Sunday, April 25.
Jokowi Confers Military Ranks, Honors on 53 Fallen Crew Members of the Sunken Indonesian Submarine
President Joko "Jokowi" Widodo has bestowed posthumous awards on 53 fallen crew members of the sunken Indonesian submarine KRI Nanggala-402 on Monday, April 26.
"The state will posthumously promote the [crews'] military by one level higher and award them the Jalasena medal for their dedication and sacrifice," said Jokowi via the Presidential Secretariat's YouTube channel.
"The government will also provide scholarships to their next of kin until they receive bachelor's degrees in universities." The President also expressed his deep sadness for the death of the KRI Nanggala-402's 53 crewmen.
Hopefully the souls of these Hiu Kencana [Kencana Shark submarine corps] warriors may rest beside Almighty God and their families will be given grace, patience, and strength," said Jokowi.
Indonesian Military (TNI) commander Air Force Marshal Hadi Tjahjanto confirmed on Sunday that all the crew members of the KRI Nanggala-402 submarine had died.
It was previously reported that the KRI Nanggala is divided into three parts, the hull of the ship, the stern of the ship, and the main part. The vessel was found in a depth of 850 meters.
Source: https://go.kompas.com/read/2021/04/26/193219374/jokowi-confers-military-ranks-honors-on-53-fallen-crew-members-of-the-sunken?page=all#page2.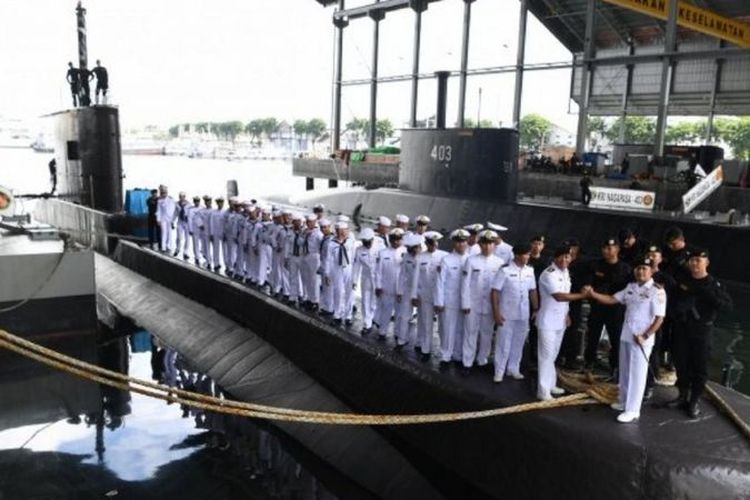 The crew of the KRI Nanggala-402 at their base in Surabaya, East Java Wednesday (20/4/2019)