TANGERANG, KOMPAS.com – Immigration officials at the Soekarno-Hatta International Airport has revealed that nearly 500 Indian nationals have entered Indonesia in mid-April, as a third wave of Covid-19 cases pushed the country's sources to breaking point.
"454 Indian citizens have entered Indonesia through Soekarno-Hatta Airport between April 11 to 22," said Romi Yudianto, the head of the Airport's Immigration Office.
"Of this number, 244 have admission visas, 69 have Temporary Stay Permit Cards, while 23 of them have Permanent Stay Permit Cards. Another 52 Indian nationals have Temporary Stay Visas, while 66 of them manned heavy equipment."
Romi cited the figures after the arrival of two flights from the country bringing 244 Indian nationals last Wednesday raised fears among Indonesian politicians and the public that the 'tsunami' of Covid-19 cases sweeping India will overwhelm Indonesia next.
Also read: Indonesia Gearing Up to Produce Homegrown Covid-19 Vaccines
"The Indian nationals and others that make up the 117 passengers on Air Asia flight XZ988 from India confirmed that the Covid-19 pandemic there has turned into a serious health crisis. The Covid-19 strain plaguing the country is of the B.1617 strain that can quickly mutate," he noted.
Romi asserted that another 132 Indian citizens arrived on flight QZ9BB, a chartered flights from the MMA airline.
"I can assure that officials [in Soekarno Hatta Airport] is tightly monitoring their arrival, and have applied PCR tests to them. They also have temporary and permanent residency permits to enter and live in Indonesia."
Meanwhile, Indonesian Ministry of Health Budi Gunadi Sadikin pointed out that at least 12 of the Indian nationals tested positive for Covid-19.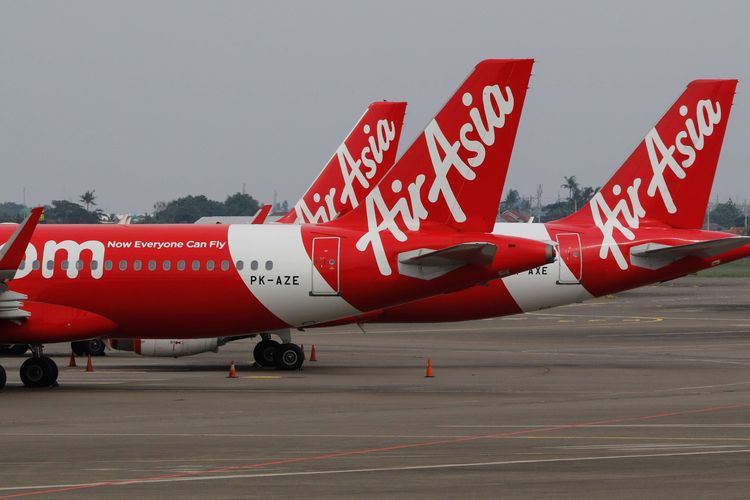 A group of Air Asia airliners, similar to those which brought hundreds of Indian nationals to Indonesia on Wednesday (21/4/2021)
"The [Indian citizens] tested positive after [Indonesian health officials] carried out whole genome sequencing to determine the Covid-19 variant that they are carrying," he said.