JAKARTA, KOMPAS.com – Philippine President Rodrigo Duterte and Thailand's Prime Minister Prayuth Chan-o-cha have announced that they will not attend the ASEAN summit in Jakarta which will be convened on Saturday, April 24.
The Philippine government said Foreign Minister Teodoro Locsin Jr. will represent Duterte at the meeting, citing "pressing domestic concerns," over a surge of Covid-19 cases in the country.
The Philippine Foreign Ministry assured that Duterte's absence will not detract from the country's support for the summit, which was convened to touch on the crisis in Myanmar.
Thailand also confirmed that Prime Minister Prayuth will not attend the ASEAN summit. The Thai government said he will be represented by Deputy Prime Minister Don Pramudwinai, who is also the country's Foreign Minister.
Also read: Myanmar Opposition Request Representation at ASEAN Meeting in Jakarta
Meanwhile, Chinese Foreign Minister Wang Yi "expects the [ASEAN] meeting to lead to a good start towards helping realise a 'soft landing' for the Myanmar situation," said the senior diplomat, as quoted by the Reuters news agency.
Wang hoped ASEAN can resolve the Myanmar crisis, and warned that failure to do so could bring about grim consequences. "Inappropriate intervention from outside the [Southeast Asia] should be avoided," he asserted.
"[Previous cases] has proved that blindly exerting strong pressure by foreign forces will not help resolve a country's internal problems, but will bring turbulence or even deterioration to the situation, which will affect and destabilise the region."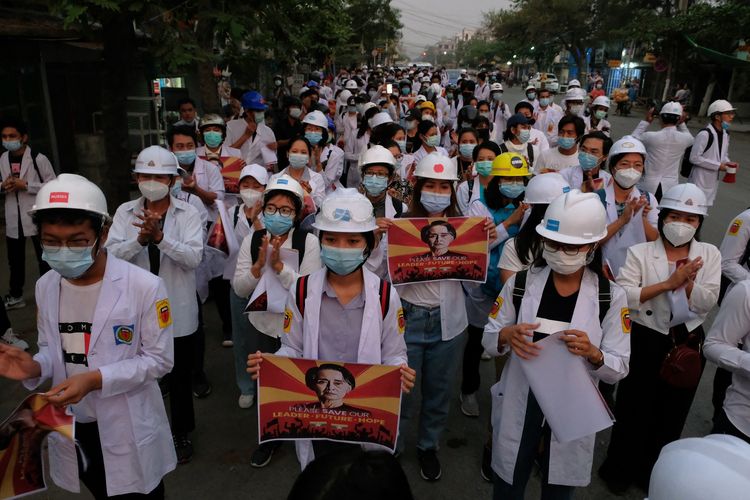 Medical staff and students take part in an early morning protest against the military coup and crackdown by security forces on demonstrations in Mandalay on March 21, 2021. (Photo by STR / AFP)
China is not an ASEAN member, but a member of the ASEAN Plus Three organization, along with Japan and South Korea. The country, which is a known backer of Myanmar's military junta, has yet to confirm whether it will attend the ASEAN Summit on Myanmar in Jakarta.
The head of Myanmar's military junta, General Min Aung Hlaing, has confirmed last Wednesday that he will attend the ASEAN summit.
ASEAN has been hampered from taking a more firm approach to resolve the Myanmar crisis by the Association's policy of non-intervention in member states' domestic affairs.
Also read: Chief of Myanmar's Military Junta Heads to Jakarta For ASEAN Summit
The association is also hindered by the lack of a cohesive response. Member states like Indonesia and the Philippines have taken a firmer stance on the Myanmar crisis, while Malaysia as well as Thailand favored a more ambiguous response.
Myanmar's crisis came about on February 1 after the military junta arrested the country's de facto leader Aung San Suu Kyi, and overthrew the democracy icon's government after her National League of Democracy [NLD] party beat military sponsored parties by a landslide last November.
The military resorted to a brutal crackdown on the opposition, by killing more than 700 people and imprisoning thousands of others, after they protested the military coup over the past two months.
(Writers/Editors: Aditya Jaya Iswara, Danur Lambang Pristiandaru)
Sources:
https://www.kompas.com/global/read/2021/04/23/162001870/jelang-ktt-asean-presiden-filipina-dan-pm-thailand-tidak-hadir?page=all#page2.
https://www.kompas.com/global/read/2021/04/23/163601870/ktt-asean-digelar-besok-di-jakarta-ini-harapan-china?page=all#page2.
Dapatkan update berita pilihan dan breaking news setiap hari dari Kompas.com. Mari bergabung di Grup Telegram "Kompas.com News Update", caranya klik link https://t.me/kompascomupdate, kemudian join. Anda harus install aplikasi Telegram terlebih dulu di ponsel.