JAKARTA, KOMPAS.com – Indonesia is bracing to take a great leap forward in the field of energy, as the government is laying the groundwork to use nuclear energy.
Myanmar's opposition government have urged Indonesia and other ASEAN member countries to give them a say, as the regional organization is set to meet in Jakarta next weekend to discuss the ongoing crisis in the country.
And the Indonesian National Police has requested aid from Interpol to nab an Indonesian citizen for blasphemy, after he created a stir by claiming to be the 26th prophet and insulting the Muslim ritual of fasting during the Islamic holy month of Ramadan. This and more on Indonesia Highlights.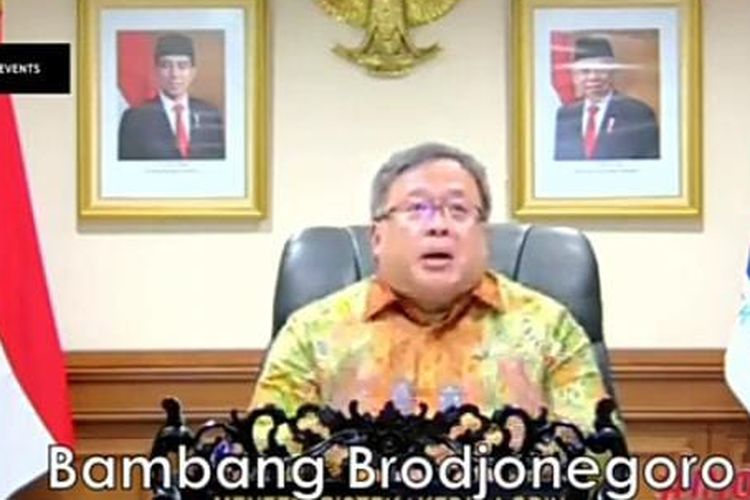 Minister of Research and Technology Bambang Brodjonegoro at a webinar on Wednesday (31/3/2021).
Indonesia Plans to Develop Nuclear Power to Generate Electricity
Minister of Research and Technology Bambang PS Brodjonegoro said the government is still preparing the development of nuclear power to generate electricity in the future.
Speaking in his capacity as the head of the National Research and Innovation Agency (BRIN), Bambang stressed the importance of nuclear power development to ensure a steady supply of electricity for Indonesia.
"We are still preparing for the development of nuclear technology. We have to ensure that as the economy grows in the future, there must be adequate electricity to support it," Bambang told a press conference after the National Energy Council Meeting in the State Palace on Tuesday, April 20.
Therefore, preparations in terms of technology and safety of nuclear energy development need to be carried out. He pointed out that this is part of the five programs of the national research on new and renewable energy.
Other research programs include the development of biofuels from palm oil, biogas, geothermal power plants, and electric batteries.
"The Ministry of Research and Technology/BRIN has launched several new and renewable energy research programs in the 2020-2024 roadmap," said Bambang.
"This (roadmap) is done to ensure the availability of energy as well as to change the composition of our energy towards new and renewable ones. We need to prepare for technological innovation because it's very important," he added.