NAYPYIDAW, KOMPAS.com – Myanmar's opposition figures have called on ASEAN to give them a say in the Association's meeting in Jakarta on Saturday April 24, following news that General Min Aung Hlaing, the head of the country's military junta will attend the meeting.
The deputy foreign minister of the opposition National Unity Government [NUG], Moe Zaw Oo, and other opposition officials and human rights activists criticized ASEAN for inviting General Min to the summit, and failing to reach out to them.
Also read: Chief of Myanmar's Military Junta Heads to Jakarta For ASEAN Summit
"If ASEAN wishes to aid in resolving the crisis in Myanmar, they will not get far if they do not consult with NUG. [The NUG] is [Myanmar's] legitimate government, because we have the support of the people," Moe said to Burma Voice of America last Sunday.
"It is imperative that ASEAN member countries not recognize the military junta, so their attendance at the upcoming [ASEAN] summit needs to be handled carefully."
A view from the United Nations
Meanwhile, the AFP news agency reported UN Secretary-General Antonio Guterres and his predecessor Ban Ki-moon urged ASEAN member countries to take more actions to end the crisis in Myanmar.
"ASEAN's role is more crucial than ever as the region faces an urgent crisis in Myanmar," Guterres said.
"The situation requires a robust international response grounded on a unified regional effort. I urge regional actors [such as ASEAN] to leverage their influence to prevent further deterioration and, ultimately, find a peaceful way out of this catastrophe."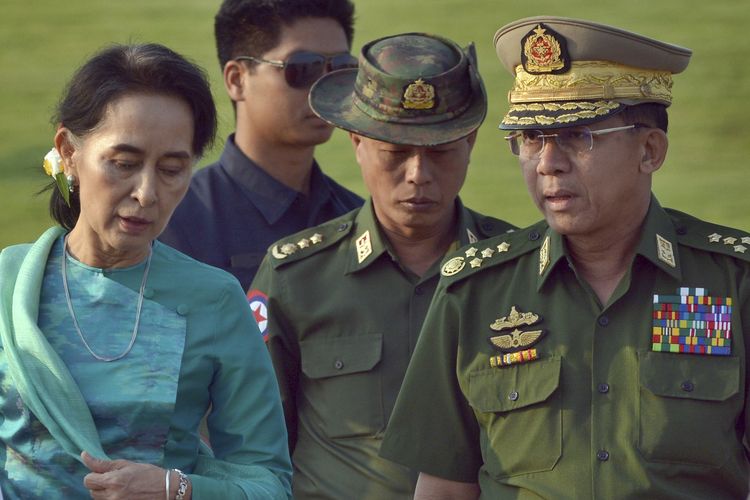 FILE - In this May 6, 2016, file photo, Aung San Suu Kyi, left, Myanmar's foreign minister, walks with senior General Min Aung Hlaing, right, Myanmar military's commander-in-chief, in Naypyitaw, Myanmar. Myanmar military television said Monday, Feb. 1, 2021 that the military was taking control of the country for one year, while reports said many of the country's senior politicians including Suu Kyi had been detained. (AP Photo/Aung Shine Oo, File)
Ban reiterated his successor. "[ASEAN] should agree that a high level delegation will visit Myanmar to engage with all relevant parties," the AFP news agency reported Ban as saying in a video conference of UN Security Council leaders Monday.
"I am sincerely appealing to ASEAN leaders to step up together with the United Nations to help the people and country of Myanmar." Ban also regretted that internal divisions kept the UN Security Council and ASEAN from responding firmly to the crisis in Myanmar.
Nonetheless, he urged for the international community "to act decisively to prevent the worst in Myanmar and beyond."
Also read: Aung San Suu Kyi, Australian Advisor Charged in Myanmar With Official Secrets Violations
The ASEAN summit will be General Min's first official overseas trip since he masterminded the overthrow and arrest of democracy icon Aung San Suu Kyi, the civilian leader that holds the NUG's loyalty.
Human rights groups in Myanmar noted that the army has killed at least 730 civilians in their violent crackdown against opposition to the coup.