VATICAN CITY, KOMPAS.com – The international community has condemned the suicide bombing of a Catholic Cathedral in the Indonesian city of Makassar during a Palm Sunday service last weekend, which killed two suspected bombers and wounded 20 congregants and security guards.
Pope Francis highlighted the incident as he started off Holy Week ceremonies at Vatican City.
"Let us pray for all the victims of violence, especially those of this morning's attack in Indonesia, in front of the [Sacred Heart of Jesus] Cathedral of Makassar," the Catholic News Agency quoted the pope as saying on his Palm Sunday Mass at St. Peter's Basilica on March 28.
"May the Madonna who always precedes us on the path of faith help us."
Singapore is just as strident in condemning the attack. "Nothing can justify such violence against innocent civilians and places of worship," the Singaporean Ministry of Foreign Affairs said in its website.
"We wish those who were injured a speedy and full recovery, and support the Indonesian government's efforts to ensure public safety."
Also read: Indonesia Highlights: Jokowi Strongly Condemns Makassar Cathedral Attack | UAE to Invest $10 Billion in Indonesia's Newly Established Sovereign Wealth Fund | Overseas Indonesians Contracting Covid-19 Rise to 4,000
Turkey the toll terrorism took on the nation as it conveyed its condolences over the bombing in Makassar, the capital of the Indonesian province of South Sulawesi.
"As a country which fought against terrorism for many years and lost a large number of citizens under terrorist attacks, we strongly condemn [the bombing in Makassar]," the Turkish Foreign Ministry said, as quoted in the Daily Sabah media website.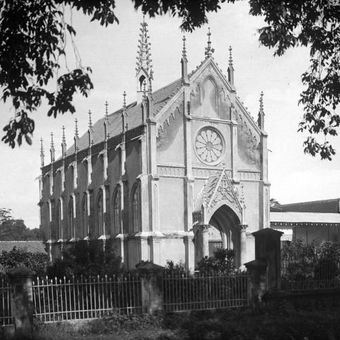 A photo of Makassar Cathedral circa 1900 -1919
Also read: Breaking News: Explosion Rocks Makassar Cathedral in Indonesia's South Sulawesi