KOMPAS.com – An explosion rocked a catholic church in the city of Makassar in South Sulawesi province on Sunday, March 28.
As many as 14 residents, including churchgoers, were injured and two people believed to be the members of an Islamist militant group killed in a suicide attack.
Indonesia's President Joko Widodo strongly condemned the incident, which he described as an act of terrorism.
Meanwhile, the United Arab Emirates (UAE) has committed to invest $10 billion in Indonesia's sovereign wealth fund.
Below are excerpts from the stories in Indonesia, curated by Kompas.com editors:
Jokowi Strongly Condemns Makassar Cathedral Attack
Indonesia's President Joko "Jokowi" Widodo strongly condemned an alleged suicide bomb in front of a cathedral, injuring 14 people in the city of Makassar in South Sulawesi province on Sunday, March 28.
"I strongly condemn this act of terrorism that occurred in front of the Makassar Cathedral and I have instructed the police chief to investigate thoroughly the perpetrators' networks and trace the networks to their roots," Jokowi said in a televised address.
The president urged people to remain calm, saying the government would ensure that everybody can worship without fear.
He also hopes that the people will work together to combat the act of terrorism and radicalism in the country.
Police said that the 14 injured people are currently being treated in a local hospital.
Meanwhile, police said two suspects were the only fatalities.
A witness said that the explosion took place at around 10:30 am shortly after the second mass ended.
According to security personnel at the church, he saw two suspicious people who wanted to enter the church premises but they failed to do so until a device detonated.
Police chief Listyo Sigit Prabowo said the bombers were both believed to belong to the Islamic State-inspired Jamaah Ansharut Daulah (JAD), which is suspected of suicide attacks on churches and a police post that killed at least 30 people in the city of Surabaya in 2018.
Religious Affairs Minister Yaqut Cholil Qoumas also condemned the attack.
"I strongly condemned [the attack]. Whatever the motive is, this act isn't justified by any religion because it harms not just one person but others, too," Yaqut said in a statement.
Other largest Muslim organizations in the country also condemned the attack as all forms of violence are not the teachings of any religion.
Source: Kompas.com
UAE to Invest $10 billion in Indonesia's Newly-Established Sovereign Wealth Fund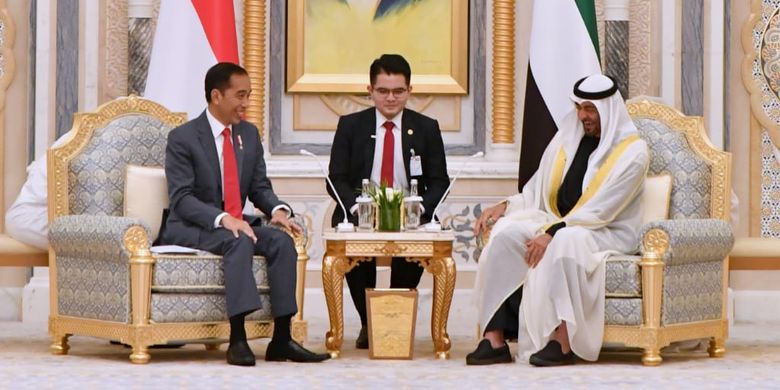 President Joko Widodo (left) holds a bilateral meeting with Sheikh Mohammed bin Zayed Al Nahyan (right), crown prince of Abu Dhabi and deputy supreme commander of the UAE Armed Forces in Qasr Al Watan in Abu Dhabi on January 12, 2020.
The United Arab Emirates (UAE) has committed to invest $10 billion in Indonesia's sovereign wealth fund, marking the biggest foreign investment since the new body was introduced in February.
In an interview with Kompas.com UAE's Ambassador to Indonesia and ASEAN, Abdulla Salem Obaid AlDhaheri disclosed that through the Indonesia Investment Authority (INA) the funds would support the development of various strategic sectors in Indonesia, including the country's new capital city in East Kalimantan.
The investment will also be allocated for infrastructure development, roads, and education in the capital city.
"The investment will also cover the development in the new capital city such as for infrastructure, roads, and education. All sectors should bring benefit to the people of Indonesia," Abdulla told Kompas.com at the UAE Embassy in Jakarta on Friday, March 26.
Besides, the funds will cover renewable energy, strategic and defense industries, the production of Covid-19 vaccines and detection tools, as well as the agriculture and food security sectors.
UAE has also expressed a commitment to invest in mangrove forests, digital education, tourism, and creative economy, and religious affairs.
The envoy mentioned that the collaboration in the field of religious affairs and defense cooperation is relatively new. The latter will aim to share best practices in military technology.
He said that the injection of the funds was a directive from Abu Dhabi Crown Prince Mohammed bin Zayed al-Nahyan following the state visits made by the leaders of the two nations.
Previously, Mohamed bin Zayed visited Indonesia in 2019, while President Joko Widodo conducted a reciprocal visit in 2020.
Sources: https://money.kompas.com/read/2021/03/28/100800326/uea-minat-investasi-di-ibu-kota-baru-ini-sektor-yang-dilirik.
https://money.kompas.com/read/2021/03/28/080700226/putra-mahkota-abu-dhabi-perintahkan-tanam-investasi-rp-143-9-triliun-ke-ri.
Overseas Indonesians Contracting Covid-19 Rise To 4,000
An illustration of Covid-19's impact around the globe.
The Foreign Affairs Ministry recorded that 4,033 Indonesians living abroad have contracted Covid-19 after 37 new cases were reported in five countries.
"More Indonesians have tested positive for Covid-19 in Singapore, Qatar, Egypt, Chile, and Kuwait," said the Foreign Ministry in the @Kemlu_RI Twitter handle on Sunday, March 28.
Among the new cases, 27 were reported in Qatar, six in Singapore, two in Kuwait, while in Egypt and Chile one confirmed case was reported, respectively.
The ministry also reported that currently, 29 Indonesians living overseas have recovered. Of this number, 20 were in Qatar and nine in Singapore, with no deaths reported this month.
Overall, 3,174 patients or 78.7 percent of the total confirmed cases have recovered. To date, the ministry recorded 177 fatalities and 682 recoveries.
Source: https://go.kompas.com/read/2021/03/28/151714674/overseas-indonesians-contracting-covid-19-rise-to-4000.
Dapatkan update berita pilihan dan breaking news setiap hari dari Kompas.com. Mari bergabung di Grup Telegram "Kompas.com News Update", caranya klik link https://t.me/kompascomupdate, kemudian join. Anda harus install aplikasi Telegram terlebih dulu di ponsel.