SUMEDANG, KOMPAS.com – The West Java Regional Police has named a bus driver as a prime suspect behind a bus accident in the Sumedang regency that killed 29 pilgrims and wounded 36 others, after the vehicle plunged into a ravine on Wednesday, March 10.
Sumedang Police Department Traffic Unit chief Police Commissioner Attendant Eryda Kusumah said investigators still named YA as a suspect even though he was among the dead, which included students from the IT Al Muawwanah junior high school in the town of Subang.
"We named [YA] as the prime suspect following a reconstruction of the accident on Monday in front of 21 witnesses. The latter included survivors as well as passers-by who saw the disaster," he said of the driver, who was driving a bus from the Tri Padma Kencana transportation company.
Also read: Bus Accident in the Indonesian Province of West Java Kills 23 People
"We are investigating YA to determine if there are other suspects behind the accident." Eryda added that the police will charge the 42-year under a 2009 traffic law on reckless endangerment, that carries a maximum sentence of six years behind bars or a Rp. 12 million [$823.40] fine.
Meanwhile, Indonesian National Transportation Safety Committee [KNKT] investigators determined that the accident was caused by driver errors.
"We found that the accident was caused by brake fading, or overheating brake pads," KNKT Senior Investigator Ahmad Wildan said to Kompas.com last Sunday.
"If a bus is heading towards a downward trajectory, they should use exhaust brakes and engine brakes to back up the main brake. If the driver fails to do so, it will make the main brake overheat."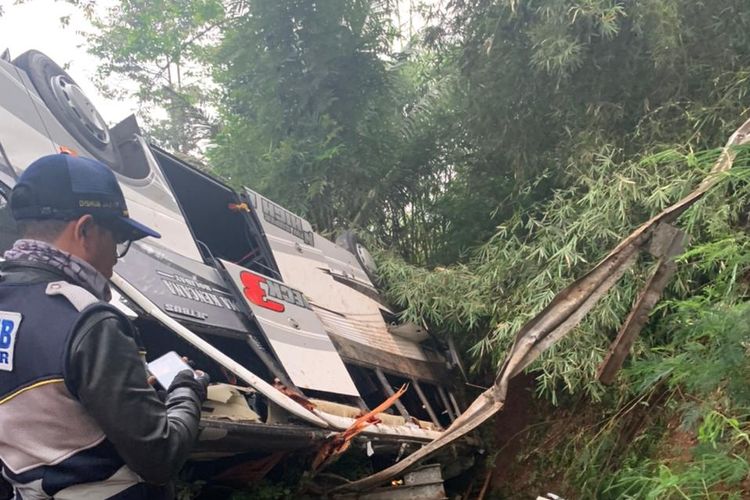 A view of the bus after it went down a ravine in Sumedang regency, West Java. The accident killed 29 people and injured 36 others
Also read: Deputy Regent Faces 12 Years in Jail if Found Guilty in Fatal Road Accident in Indonesia's Papua
Wildan suspected that YA might have panicked, causing him to commit further errors. "[YA] then changed the clutch to a lower gear without stepping on the pedal. In a synchromesh manual transmission this will not work, putting the gear in neutral."