JAKARTA, KOMPAS.com – Indonesian President Joko Widodo stood his ground for justifying his dislike of foreign products, a premise he took in a bid to make domestic consumers buy Indonesian.
Indonesian military personnel continued to clash with Insurgents in Papua's volatile Intan Jaya regency, as soldiers killed an unidentified armed man.
And the Indonesian Child Protection Agency [KPAI] raised the alarm over high dropout rates for schoolchildren during the Covid-19 pandemic. Read on for this news and more in this edition of Indonesia Higlights: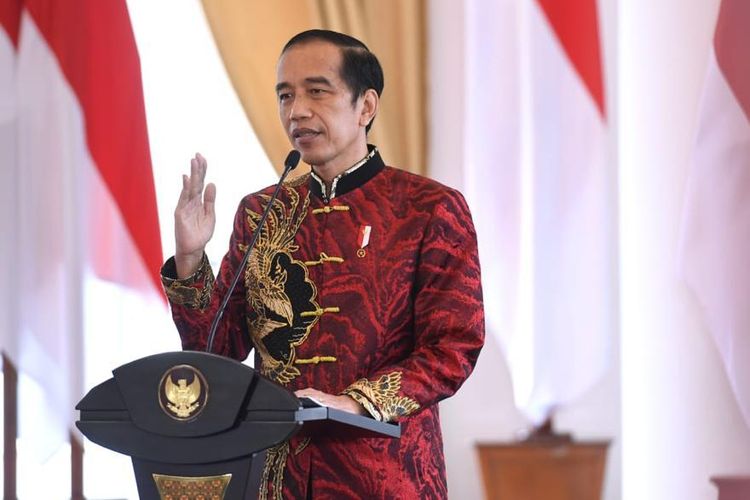 President Joko Widodo in a cheongsam Chinese attire designed by fashion designer Anne Avantie to mark the Chinese Lunar New Year, Saturday (20/2/2021)
President Jokowi Stands By Inflammatory Statement on Foreign Goods
Indonesian President Joko Widodo continues to stand by his controversial comment of hating foreign products earlier this week, which the head of state made to encourage the public to buy Indonesian.
"I encouraged [the Indonesian public] to love and be proud of Indonesian products. I also said one can despise foreign products," said the former Jakarta governor, as quoted by the Antara state news agency on Saturday.
"I just spoke my mind when I said [one has the right to] hate foreign products, and I have the right to do so. So I do not understand what the fuss was about."
But Jokowi admitted that "Indonesian manufacturers must earn the love of domestic consumers by making good quality, reasonably priced products. They should also make the most of the 270 million strong Indonesian market."
He noted that the Indonesian market's buying power remains strong at 84.9 percent in January 2021, up from 79 percent in October 2020, and can drive economic growth which stalled because of the Covid-19 pandemic towards the projected goal of five percent.
President Jokowi also encouraged state-owned enterprises to buy Indonesian and reduce the purchase of imported products.
Source:
https://money.kompas.com/read/2021/03/06/113529726/jokowi-heran-saya-ngomong-benci-produk-asing-begitu-saja-ramai?page=all#page2.
Illustration of a shooting
Indonesian Forces in Papua Kill One 'Armed Criminal' in Ongoing Insurgency
Indonesian Army forces in Papua has killed at least one insurgent, following a firefight with so-called 'Armed Criminal Groups' or KKB in Sugapa district, the epicenter of the ongoing conflict at the Intan Jaya regency on Saturday.
"Military personnel from the Raider infantry battalion shot two insurgents, one of them fatally, during a firefight at the village of Puyagia. The casualties were part of a four man squad led by Undinus Kogoya, a well-known insurgent in the area," said Army spokesman Colonel IGN Suriastawa.