ZURICH, KOMPAS.com - The arome of freshly brewed coffee is more than a surefire way to start your day; it also has a way of bringing people of all walks of life, both young and old, together anytime, anywhere. One such place is Omnia Coffee in Zurich, Switzerland.
Located in the Helvetiaplatz area, the warm and cozy atmosphere of the coffee shop is reflected in the customers' small talk with the baristas, which continued after the former polished off their cappuccino, coffee latte and other brews.
While talk about the weather and specialty coffee is to be expected in any coffee shop, Omnia Coffee is distinct from its counterparts in that Indonesia, most of all Indonesian coffee, often comes up in the conversation.
This chemistry between customers and staff over quality coffee is the avowed goal of Omnia Coffee founders Alista Oksanti and her Swiss husband Martin Ponti since they opened the coffee shop last February.
Also read: 8 Indonesian Nostalgia Evoking Sweets
"[Omnia Coffee's customers] are not just people who want to drop by for a quick joe. They are coffee aficionados who want to know the origins of the coffee they savor," said the Semarang, Central Java native to Kompas.com.
"Our baristas are not only required to serve premium quality coffee, they are required to be aware of their origins."
Yet Alista's ability to bring people together over coffee comes from her professional experience working the Food and Beverage departments of various five star hotels in Jakarta as it does her astute people skills.
At Omnia, Alista and Ponti clearly accounted for the coffee they sell and how it goes from the growers to the consumers' cup. "While Omnia serves robusta and arabica coffee, they are all grown, even roasted, in Indonesia," she pointed out.
Alista made her point by showing several bags of coffee from Bali, Toraja, Sumatra and Flores. "The customers can have a coffee latte or cappuccino, but the coffee originates from Indonesia."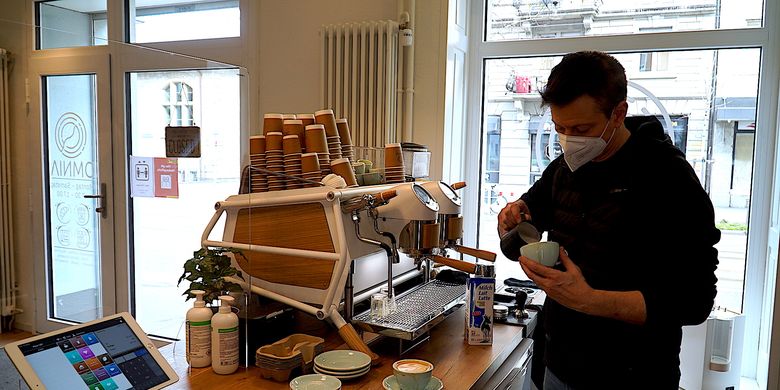 Martin Ponti, a man from Switzerland who has studied Indonesian coffee for 20 years, is making cappuccino in his shop. Together with Alista and Adam Ponti, he founded the first Indonesian warkop in Zurich, Switzerland, which he named Omnia Coffee.