JAKARTA, KOMPAS.com – Indonesia has moved to recover its standing in Myanmar, a week after Jakarta drew flak from supporters of the country's deposed leader Aung San Suu Kyi for allegedly supporting its military junta's call for new elections.
Indonesian Foreign Minister Retno Marsudi has announced three main points that is designed to rally other ASEAN members in defusing the crisis in Myanmar stemming from the military junta's takeover of the country on February 1.
"The safety and wellbeing of Myanmar's people [is ASEAN's] main priority. Therefore, Indonesia urges [Myanmar's] security forces to refrain from using excessive force against [civilians]," Retno said in a press conference following a virtual meeting with her ASEAN counterparts on Tuesday.
Retno also urged ASEAN to play a greater humanitarian role in aiding Myanmar's people, including political prisoners. "ASEAN can play a major humanitarian role [in Myanmar] by, among other things, ensuring [that Myanmar's people] get access to [Covid-19 vaccines]."
Also read: Indonesian Foreign Minister Calls Off Myanmar Visit
Retno noted that the model that ASEAN can use is the organization's Ad Hoc Task Force for Rakhine State which has been in the country in recent years to help Rohingya refugees.
Secondly, Retno called for the "restoration of democracy [in Myanmar]. The wishes of the country's people should be respected," she noted, and reminded that democracy guarantees freedom of expression, communication and dialogue.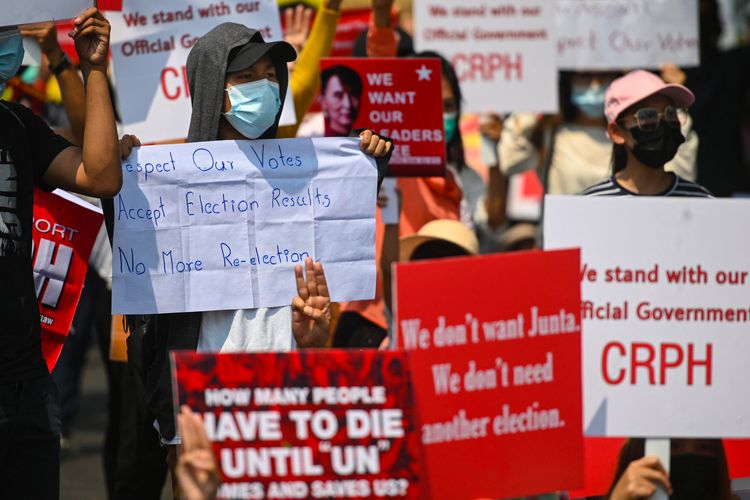 Protesters in front of the Indonesian Embassy in Yangon, Myanmar, on Monday (23/2/2021)
"ASEAN is ready to participate in these talks [between the conflicting parties] if both sides requested to do so. However, they should set the conditions to do so, including reducing tensions and creating a peaceful atmosphere by releasing political prisoners and other gestures. "
Third, Retno also highlighted "ASEAN's role in maintaining peace and stability in Myanmar and the rest of Southeast Asia. She warned that failure to find a peaceful resolution to the Myanmar crisis will spark a humanitarian crisis that will destabilize the ASEAN region.
Also read: Protests Sweep Myanmar to Support Suu Kyi