JAKARTA, KOMPAS.com – The Covid-19 pandemic continues to grip Indonesia, after two cases of the coronavirus strain from Great Britain was found in the country.
The Indonesian Ministry of Health announced the discovery, a year after the first Covid-19 case was found in Indonesia on March 2, 2020.
Deputy Minister of Health Dante Saksono confirmed the finding of the strains, which were known as B.1.1.7, on Tuesday.
"The finding of the new cases will add to Indonesia's challenges in containing Covid-19, as the B.1.1.7 is up to 70 percent more transmissible than the SARS-CoV-2 variant that was originally found in Wuhan, China," he said.
"We found the B.1.1.7 strain after we examined 462 strains with the Whole Genome Sequence [WGS] over the past few months. This means that the strain has been [in Indonesia over the past few months]."
Also read: Indonesia's Transportation Ministry Bans Entry of Foreign Travelers from UK Due to New Covid-19 Strain
Dante notes that "this development raises the need for more research and better methods in dealing [with Covid-19]. We hope that the Ministry of Health and the Ministry of Research and Technology's joint [research] efforts will bring about a breakthrough in our fight against the pandemic."
A study by the University of Birmingham found that the B.1.1.7 mutation is more transmissible because it replicates faster in the case's throat.
The study also showed that people who are positive with this strain have a higher viral load, increasing their likelihood of contracting or transmitting the virus.
A Kompas.com article on January 29 cited that Great Britain's Office of National Statistics or ONS reported that those contracting the B.1.1.7 strain are more likely to feel the following symptoms than the previous strain of Covid-19:
• Coughs
• Sore throat
• Fatigue
• Muscle aches
A number of experts believed that the change in symptoms are brought about by the more transmissible variant and its more rapid spread in the body. The report was based on a test sample of respondents who tested positive for Covid-19 between November 15, 2020 to January 16, 2021.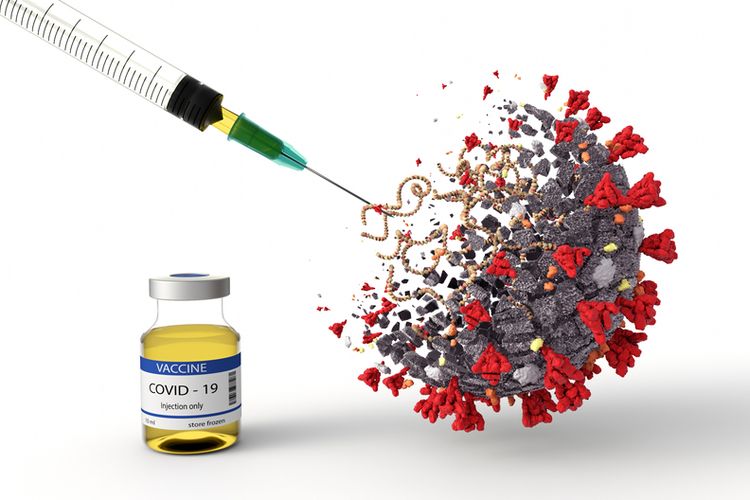 An illustration of Covid-19 vaccine.
Also read: Indonesia Endorses Four Foreign Vaccines
However, the Indonesian Doctors Association's [IDI] Covid-19 Task Force head Professor dr. Zubairi Djoerban said Indonesia still has the resources to deal with the B.1.1.7 strain.
"The [Covid-19] vaccines available in Indonesia are just as effective in dealing with B.1.1.7. as with [the SARS CoV-2 variant]. This new Covid-19 variant can also be detected in PCR tests," he said.