JAKARTA, KOMPAS.com – Indonesia's unpredictable weather continues to pose challenges for the authorities in the sea, land and air.
SAR Units nationwide were in the thick of the action, as they rescued seven passengers of a ferry that capsized off Papua, as well as a teenage climber which fell in the crater of Mount Marapi,
The Agency for the Application and Assessment of Technology or BPPT took a more scientific approach in challenging nature, as it spread more than 23 tons of salt over the Sunda Strait to divert rain to the area, instead of the Greater Jakarta area. Read this and more on Indonesia Highlights:
SAR teams in Papua search for seven people onboard a ferry that capsized off the province's Asmat Regency. All passengers were found safe after local people rescued and brought on board, Monday (1/3/2021)
Ferry Sinks in Waters off Papua, All Passengers Accounted For
Search and Rescue [SAR] units in Papua announced that all seven passengers aboard a ferry which capsized in waters off the Asmat Regency have been accounted for on Monday evening, hours after the disaster struck at 10:30 am local time.
"Locals from the district of Fayit rescued three survivors who were identified as Wa, Ferdi and Elli, nine hours after their vessel, the KM Papua Star, went down at the Basim Estuary," said George Mercy Randang, the head of the SAR team based in Timika, which is in charge of the rescue.
"The three were found safe and have been evacuated to the village of Basim, where they will spend the night because the low tide made it impossible for them to go by sea to the town of Agats, where we will be able to take them home."
He added that the three will join their fellow survivors in heading home from Agats on Tuesday morning. George noted that the discovery of the survivors officially ended the rescue operation. The three joined four fellow survivors, David, Frans, Nabas, dan Robi in surviving the disaster.
Source:
https://regional.kompas.com/read/2021/03/01/225652978/km-papua-star-tenggelam-di-perairan-asmat-3-penumpang-yang-hilang-ditemukan.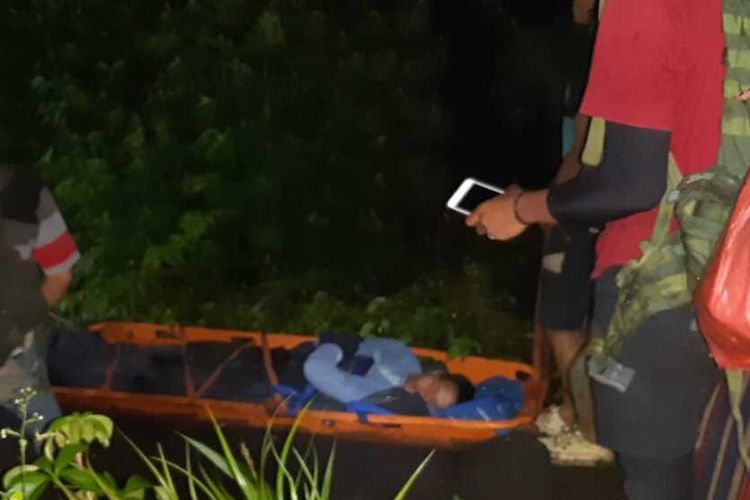 Teenage mountain climber Ramzi getting rescued by a SAR team on the slopes of Mount Marapi in West Padang, Sumatra, Sunday (28/2/2021)