KOMPAS.com – Pacitan regency in Indonesia's East Java records a poverty rate of a little over 14 percent, one of the poor areas in the country.
However, with the newly-built dam that has a capacity of 8.7 million cubic meters, the villagers could benefit from it. The reservoir aims to improve the irrigation system, water supply and control the flood.
Meanwhile, the government through its Cooperatives and Small and Medium Enterprises Ministry will be transforming its SMEs from the informal to the formal sector.
Below are the editors' picks stories published on Kompas.com:
Jokowi Inaugurates Tukul Dam in Indonesia's East Java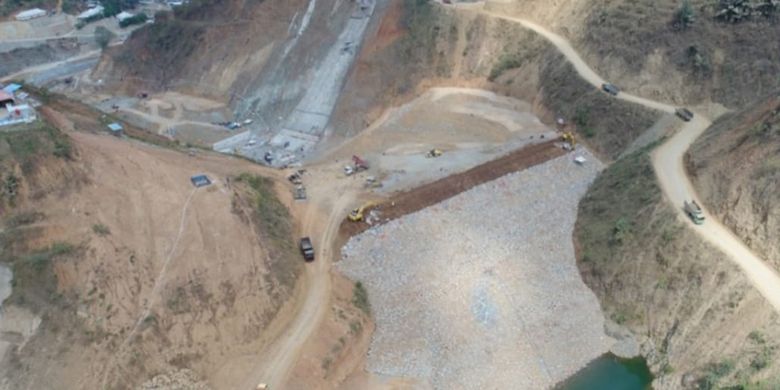 An aerial view of the Tukul Dam in Pacitan regency, East Java.
President Joko "Jokowi" Widodo on Sunday inaugurated the Tukul Dam in Pacitan regency, East Java, aiming at improving irrigation, water supply, and controlling the flood.
"With a capacity of 8.7 million cubic meters, the flow rate will reach 300 liters per second and will be used for the benefit of the people in Pacitan regency," Jokowi said.
Besides, the reservoir could also provide an irrigation system for 600 hectares of rice fields.
The president expressed hope that the dam, which started to be developed in 2015, could become an important infrastructure in strengthening food and water security.
He called on the local governments to make the best use of the reservoir.
"So that it could provide added value, benefits for the people, increase agricultural production, and facilitate the supply of clean water," he said.
Six other dams in East Java are still underway.
Source: https://nasional.kompas.com/read/2021/02/14/12355601/resmikan-bendungan-tukul-di-pacitan-jokowi-bisa-untuk-keuntungan-masyarakat?page=all.