JAKARTA, KOMPAS.com – The head of Indonesia's Maritime Security Agency [Bakamla] has deplored what he sees as slaps on the wrist for foreign vessels which were proven to violate Indonesian laws following their seizure in the country's waters.
"[Indonesian] laws should be applied impartially," Bakamla chief Vice Admiral Aan Kurnia said at a hearing with Parliament's Commission I on Defense, Intelligence, Foreign Affairs and Information on Tuesday, February 2.
"The problem is that [the vessels] are only given administrative penalties. This makes our work more difficult than expected."
Aan highlighted Bakamla's seizure of the Iranian tanker MT Horse and the Panamanian tanker MT Freya as the vessels were transferring fuel off the city of Pontianak, West Kalimantan Province on Sunday, January 24.
Also read: Indonesia Denies International Pressure Behind Seizure of Tankers
"Under the United Nations Convention on The Law of the Sea [UNCLOS], foreign ships have the right of peaceful passage through Indonesian sea lanes," he asserted.
"The vessels have to rapidly go through the sea lanes instead of Indonesian territorial waters, refrain from any other activities such as floating, dropping anchors, or turning off their Automatic Identification Systems [AIS]."
Aan maintained that the tankers violated these rules. "The tankers dropped anchor on Indonesian territorial waters off Pontianak, so making them subject to Indonesian laws instead of international law that applied on the sea lanes," he noted.
"The tankers are also found to carry Rp. 1.8 trillion [$128,352,060] that they were buying and selling. Though they violated any laws, [the Indonesian authorities] only fined the ships Rp. 200 million [$14,266.32]."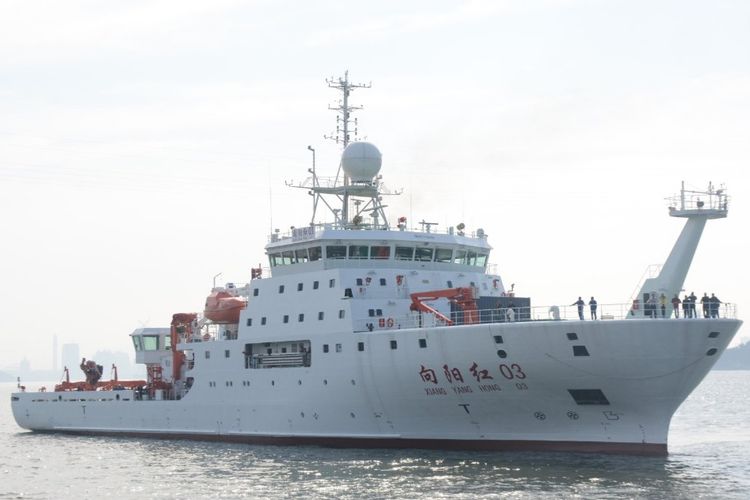 The Chinese survey ship Xiang Yang Hong. Bakamla escorted the vessel out of Indonesian waters after it was suspected of applying underwater sensors
Also read: Indonesia Nabs Foreign Tanker Ships in West Kalimantan Waters
He told the legislators that he will bring up the issue to Coordinating Minister for Political, Legal and Security Affairs Mahfud MD.
Bakamla seized the MT Horse and MT Freya on a number of charges, such as illegally transferring fuel, concealing the vessels' identities, violating the right of transit passage, failing to raise their flags and turning off their AIS.
The MT Freya was also responsible for an oil spill. Bakamla also took action against the Chinese survey ship Xiang Yang Hong 03, which they intercepted on January 13.
"The [Xiang Yang Hong] went on the Indonesian sea lanes at a speed of six to eight knots, instead of the cruising speed of 10 to 11 knots," Aan asserted.
"The ship's lower speed is suitable for operating the sonar needed for the underwater sensors. They also turned off their AIS." Bakamla eventually escorted the ship out of the Indonesian Exclusive Economic Zone.
(Writer: Achmad Nasrudin Yahya | Editor: Diamanty Meiliana, Dani Prabowo)
Sources:
https://nasional.kompas.com/read/2021/02/02/19074881/bakamla-sesalkan-ringannya-sanksi-pelanggar-kapal-asing-di-indonesia?page=all#page2.
https://nasional.kompas.com/read/2021/02/02/12144011/bakamla-curiga-kapal-survei-china-operasikan-sensor-bawah-air-di-perairan?page=all#page2.
Dapatkan update berita pilihan dan breaking news setiap hari dari Kompas.com. Mari bergabung di Grup Telegram "Kompas.com News Update", caranya klik link https://t.me/kompascomupdate, kemudian join. Anda harus install aplikasi Telegram terlebih dulu di ponsel.