JAKARTA, KOMPAS.com – Indonesia has joined other countries around the world in expressing concerns about the deteriorating political and security situation in Myanmar, after the country's military overthrew Aung San Suu Kyi and her National Leage of Democracy party.
On a more upbeat note, the country is set to receive between 13.7 to 23.1 million Covid-19 vaccines from the AstraZeneca pharmaceutical company. This development is positive for elder people of over 60, as the vaccine is deemed safe for use on them.
And President Joko Widodo hailed Bank Syariah Indonesia on its opening, and highlighted its benefits for Muslims and non-Muslims alike. Read on to get more details of these stories, as curated by our editors.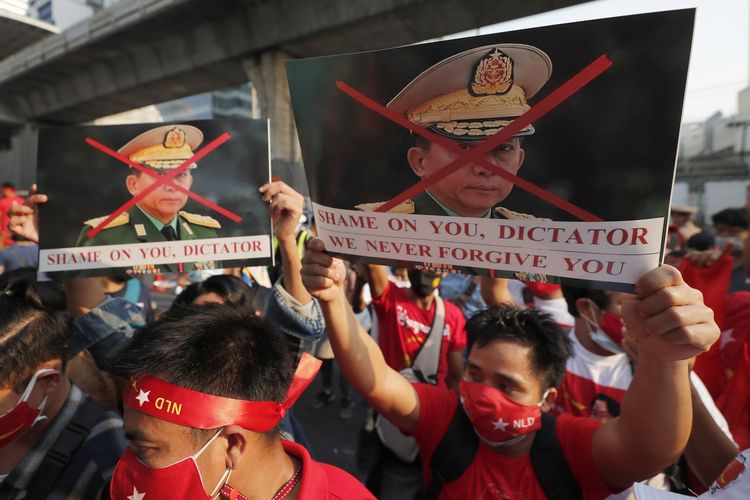 Burmese living in Thailand hold pictures of Myanmar military Commander-in-Chief Senior Gen. Min Aung Hlaing during a protest in front of the Myanmar Embassy, in Bangkok, Thailand, Monday, Feb. 1, 2021. Myanmars military has taken control of the country under a one-year state of emergency and reports say State Counsellor Aung San Suu Kyi and other government leaders have been detained. (AP Photo/Sakchai Lalit)
Indonesia Weighs in on Military Coup in Myanmar
Indonesia has called on the conflicting parties in Myanmar to settle their differences peacefully, after the country's military overthrew the civilian government of Nobel Peace Prize winner Aung San Suu Kyi and declared a state of emergency on Monday, February 1.
Noting that the coup was caused by tensions over legislative elections in November 2020, the ministry said "electoral differences be addressed in accordance with available legal mechanism."
Myanmar's military forces carried out the coup by detaining Aung San Suu Kyi, the country's president Min Wyint and other civilian politicians from the National League of Democracy or NLD, months after the party won the country's elections in November 2020 by a landslide.
The military charged that the race was marred by voter fraud. They also declared a state of emergency for a year.
The NLD was Myanmar's first democratically elected government in over 50 years after it won the country's elections by a landslide in 2015.
Suu Kyi's government was undermined by its unwillingness or inability to prevent the military from persecuting Myanmar's Rohingya minority. The persecution caused a humanitarian crisis, as the Rohingya fled Myanmar for Indonesia and other countries.