JAKARTA, KOMPAS.com – Indonesia has joined other countries around the world in expressing concerns about the deteriorating political and security situation in Myanmar, after the country's military overthrew Aung San Suu Kyi and her National Leage of Democracy party.
On a more upbeat note, the country is set to receive between 13.7 to 23.1 million Covid-19 vaccines from the AstraZeneca pharmaceutical company. This development is positive for elder people of over 60, as the vaccine is deemed safe for use on them.
And President Joko Widodo hailed Bank Syariah Indonesia on its opening, and highlighted its benefits for Muslims and non-Muslims alike. Read on to get more details of these stories, as curated by our editors.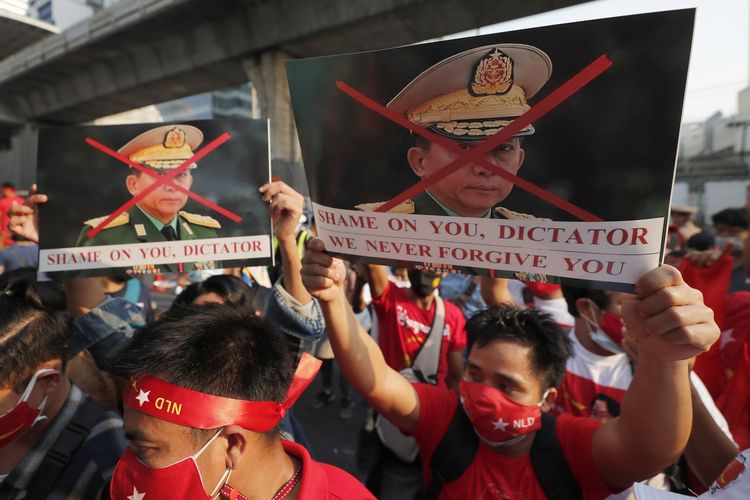 Burmese living in Thailand hold pictures of Myanmar military Commander-in-Chief Senior Gen. Min Aung Hlaing during a protest in front of the Myanmar Embassy, in Bangkok, Thailand, Monday, Feb. 1, 2021. Myanmars military has taken control of the country under a one-year state of emergency and reports say State Counsellor Aung San Suu Kyi and other government leaders have been detained. (AP Photo/Sakchai Lalit)
Indonesia Weighs in on Military Coup in Myanmar
Indonesia has called on the conflicting parties in Myanmar to settle their differences peacefully, after the country's military overthrew the civilian government of Nobel Peace Prize winner Aung San Suu Kyi and declared a state of emergency on Monday, February 1.
Noting that the coup was caused by tensions over legislative elections in November 2020, the ministry said "electoral differences be addressed in accordance with available legal mechanism."
Myanmar's military forces carried out the coup by detaining Aung San Suu Kyi, the country's president Min Wyint and other civilian politicians from the National League of Democracy or NLD, months after the party won the country's elections in November 2020 by a landslide.
The military charged that the race was marred by voter fraud. They also declared a state of emergency for a year.
The NLD was Myanmar's first democratically elected government in over 50 years after it won the country's elections by a landslide in 2015.
Suu Kyi's government was undermined by its unwillingness or inability to prevent the military from persecuting Myanmar's Rohingya minority. The persecution caused a humanitarian crisis, as the Rohingya fled Myanmar for Indonesia and other countries.
Source:
https://go.kompas.com/read/2021/02/02/031639174/indonesia-weighs-in-on-military-coup-in-myanmar?page=all#page2.
An example of AstraZenecas AZD1222 vaccine. The pharmaceutical company jointly developed the vaccine with Oxford University
Indonesia to Receive Consignment of AstraZeneca Covid-19 Vaccines
The Indonesian Ministry of Health has announced that it will receive between 13.7 to 23.1 million doses of free Covid-19 vaccines from the AstraZeneca pharmaceutical company.
"The shipment of [vaccines] are carried out as part of a multilateral collaboration with the Global Alliance for Vaccine and Immunization [GAVI]," said Ministry of Health Covid-19 expert Siti Nadia Tarmizi on Monday.
"The Covax Facility, which is a joint initiative between GAVI and the World Health Organization [ WHO] issued a letter authorizing the vaccines' shipment."
"The AstraZeneca vaccine can also be used for elderly people from the ages of 60 onwards. This is particularly important, as this age group has the highest mortality rate from Covid-19," she added.
Indonesia's vaccine drive aims to vaccinate 181 million people to achieve herd immunity.
Source:
https://go.kompas.com/read/2021/02/01/230813374/indonesia-to-receive-consignment-of-astrazeneca-covid-19-vaccines.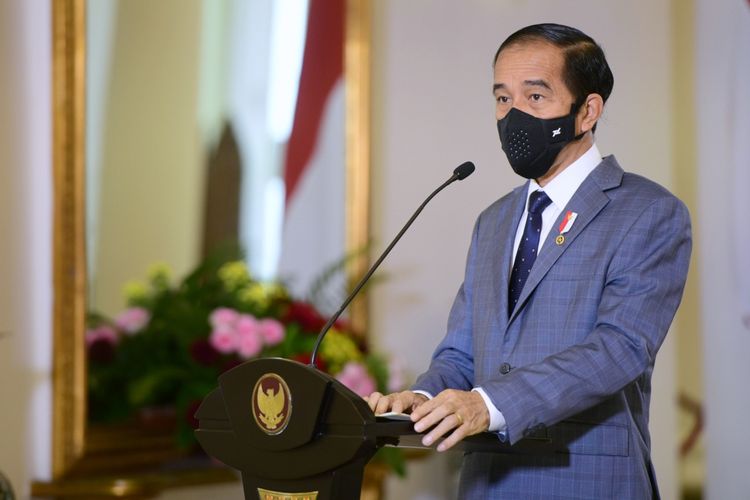 President Joko Widodo delivers his speech during the opening of 2020 Innovation Indonesia Expo on Tuesday, November 10, 2020.
Indonesian President Call on Bank Syariah Indonesia to Be Inclusive in Its Services
Presiden Joko 'Jokowi' Widodo called on Bank Syariah Indonesia to be "universal and inclusive" in its services, as the fledgling bank officially opened for business on Monday, February 1.
"One should not have the notion that Bank Syariah Indonesia's services are solely for Muslims. [The bank] should also provide its services for non-Muslims and welcome them as customers, as long as they wish carry out transactions or investment according to Syariah," the head of state said.
"I also urge Bank Syariah Indonesia to reach out to the country's millennials. Indonesia has a sizeable youth population that make up to 25.87 percent of Indonesia's 270 million population."
He urged the bank to take a number of steps to be competitive.
"Bank Syariah Indonesia's services should be competitive and meet the needs of customers ranging from Micro, Small and Medium enterprises to retail chains," Jokowi noted.
The State of Global Islamic Economy Indicator Report announced Indonesia's Syariah banking continued to grow on a year-on-year basis, from the 10th largest in the world in 2018, to 5th in 2019 and 4th in 2020.
The government said Syariah banks' assets increased 10.97 percent annually, compared to 7.7 percent for their conventional rivals. They also experienced an increase in third party funds of 11.56 percent, slightly higher than their more secular rival's 11.49 percent.
Bank Syariah Indonesia is a consortium of Syariah banks from three state-owned banks, namely BRI Syariah, BNI Syariah, dan Bank Mandiri Syariah.
Source:
https://nasional.kompas.com/read/2021/02/01/14594851/jokowi-bank-syariah-indonesia-tak-hanya-untuk-umat-islam?page=all#page2.
Dapatkan update berita pilihan dan breaking news setiap hari dari Kompas.com. Mari bergabung di Grup Telegram "Kompas.com News Update", caranya klik link https://t.me/kompascomupdate, kemudian join. Anda harus install aplikasi Telegram terlebih dulu di ponsel.