JAKARTA, KOMPAS.com – The head of Indonesia's Maritime Security Agency [Bakamla] has deplored what he sees as slaps on the wrist for foreign vessels which were proven to violate Indonesian laws following their seizure in the country's waters.
"[Indonesian] laws should be applied impartially," Bakamla chief Vice Admiral Aan Kurnia said at a hearing with Parliament's Commission I on Defense, Intelligence, Foreign Affairs and Information on Tuesday, February 2.
"The problem is that [the vessels] are only given administrative penalties. This makes our work more difficult than expected."
Aan highlighted Bakamla's seizure of the Iranian tanker MT Horse and the Panamanian tanker MT Freya as the vessels were transferring fuel off the city of Pontianak, West Kalimantan Province on Sunday, January 24.
Also read: Indonesia Denies International Pressure Behind Seizure of Tankers
"Under the United Nations Convention on The Law of the Sea [UNCLOS], foreign ships have the right of peaceful passage through Indonesian sea lanes," he asserted.
"The vessels have to rapidly go through the sea lanes instead of Indonesian territorial waters, refrain from any other activities such as floating, dropping anchors, or turning off their Automatic Identification Systems [AIS]."
Aan maintained that the tankers violated these rules. "The tankers dropped anchor on Indonesian territorial waters off Pontianak, so making them subject to Indonesian laws instead of international law that applied on the sea lanes," he noted.
"The tankers are also found to carry Rp. 1.8 trillion [$128,352,060] that they were buying and selling. Though they violated any laws, [the Indonesian authorities] only fined the ships Rp. 200 million [$14,266.32]."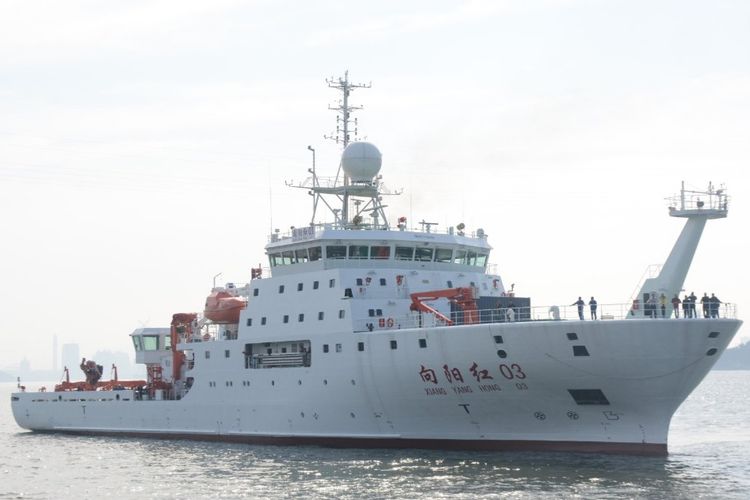 The Chinese survey ship Xiang Yang Hong. Bakamla escorted the vessel out of Indonesian waters after it was suspected of applying underwater sensors
Also read: Indonesia Nabs Foreign Tanker Ships in West Kalimantan Waters