JAKARTA, KOMPAS.com – Indonesia continues to face an uphill climb against Covid-19, as Doni Monardo, the head of the unit at the forefront of the country's struggle against the pandemic tested positive for the coronavirus.
But while Covid-19 might paralyze Indonesia, but it does not stop the armed forces or police from safeguarding the country's borders or resources. The Indonesian Navy intercepted a Taiwanese trawler illegally catching fish on the North Natuna Sea, which is Indonesian territorial waters.
The Indonesian National Police is just as firm against any threats foreign or domestic. Investigators in Aceh nabbed five suspects behind a 2019 attack on a police station in North Sumatra. Read on for more on these stories, as curated by our editors: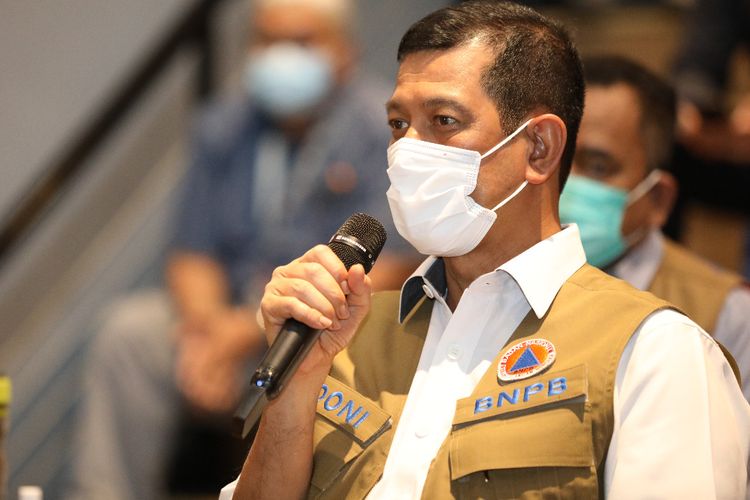 Covid-19 Task Force chief Doni Monardo delivers a briefing at Soekarno-Hatta International Airport in Tangerang, Banten on Tuesday (29/12/2020)
Covid-19 Task Force Chief Tests Positive for Coronavirus
Indonesian Covid-19 Task Force Chief Doni Monardo has tested positive for Covid-19, months after he headed the unit to contain and mitigate the pandemic in Indonesia.
The former Army general admitted that he tested positive in a swab PCR test. "[My diagnosis] proves how close Covid-19 is to our daily lives. I have been practicing health protocols such as washing hands and wearing masks, and I still contracted the coronavirus," Doni said.
He added that he was "asymptomatic, and is currently self-isolating at home, while managing mitigation efforts for natural disasters such as the recent earthquake in West Sulawesi and floods in South Sulawesi."
Doni called on the public to maintain health protocols and maintain a high alert against Covid-19. He suspected that he contracted Covid-19 during a working lunch, and warned the public against taking off masks during mealtimes.
Source:
https://nasional.kompas.com/read/2021/01/23/10241591/positif-covid-19-doni-monardo-imbau-masyarakat-disiplin-terapkan-protokol.
Ships of the Indonesian Navys I Fleet in the harbour of Tanjung Priok, Jakarta. The I Fleet covers the Natuna Sea, north and south