KOMPAS.com – The organic echoes of angklung bamboo tubes are a familiar sound that greets visitors to the Saung Angklung Udjo in the city of Bandung, the provincial capital of the Indonesian province of West Java.
Whether struck by sightseers Indonesia and the rest of the world, or hear it played by one of its staff, this hub of West Javanese or Sundanese traditional arts allows visitors a respite from the chaos brought by Jakartans wishing to get away to Bandung over the weekend.
But while Saung Angklung Udjo managed to withstand rampant commercialism for years, the studio could not get away from the effects of Covid-19. Like other businesses big and small, Saung Angklung Udjo is staring at bankruptcy in the face.
"Prior to the Covid-19 pandemic, Saung Angklung Udjo can draw up to 2 thousand local and international visitors a day. Now, we can only draw 20 people a week," studio CEO Taufik Hidayat said to the Antara state news agency on Friday, January 22.
Also read: Indonesian Experts to Restore Soekarno-Era Bas Reliefs in Jakarta's Sarinah Department Store
"At one point, we only received a married couple and their three children. This number is even lower than Saung Angklung Udjo's 30-strong ensemble."
He added that the studio is hampered by travel restrictions imposed because of the outbreak. "The number of conditions that tourists are required to meet before traveling are daunting for them, especially if they are busloads of foreign tourists that make up our visitors, as well as local students."
"This group of visitors make up 90 percent of our visitors. Once they do not come, business [at Saung Angklung Udjo] stopped thriving," Taufik lamented.
"Saung Angklung Udjo's collapsing business forced us to lay off 90 percent of our workforce. Of our 600 man workforce, only 40 are still employed," he added.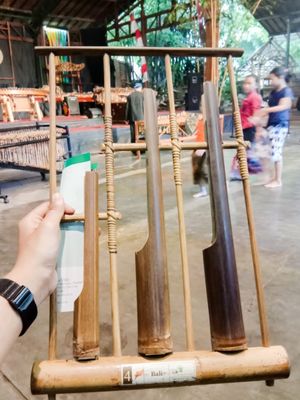 One of many bamboo angklungs in Saung Angklung Udjo that is borrowed out to visitors visiting the cultural centre, Thursday (16/1/2020)
Also read: Experience Eastern Indonesian Traditions at Melo Cultural Village