Source:
https://go.kompas.com/read/2021/01/19/044428874/death-toll-from-earthquake-in-west-sulawesi-indonesia-rises-to-84?page=all#page2.
High Waves in Manado, North Sulawesi Cause Mass Panic
The Meteorology, Climatology and Geophysics Agency [BMKG] has dismissed allegations that the four meter waves that recently hit the North Sulawesi provincial capital Manado was caused by a tsunami.
"The high waves in Manado was not caused by a tsunami, so there is no need to panic. However, it is caused by extreme weather patterns, so we need to keep an eye out for this over the next few days," said the informational head of Martime Meteorological Weather Eko Prasetyo.
"The weather included heavy rains, high winds and high waves in various parts of Indonesia. I urge the public to stay alert and monitor the latest weather data from BMKG. High tides and heavy rainfall are also bound to keep water levels high."
Eko added that the BMKG is monitoring tropical cyclone Joshua as a possible reason for the high waves, though he has yet to determine if this is a factor in the forming of 4 meter waves.
He added that Manado has been stricken by extreme weather, among them floods and landslides that killed six people and displaced more than 500 others.
Source:
https://www.kompas.com/sains/read/2021/01/18/200500323/bmkg--banjir-manado-bukan-tsunami-tapi-waspadai-potensi-gelombang-tinggi?page=all#page2.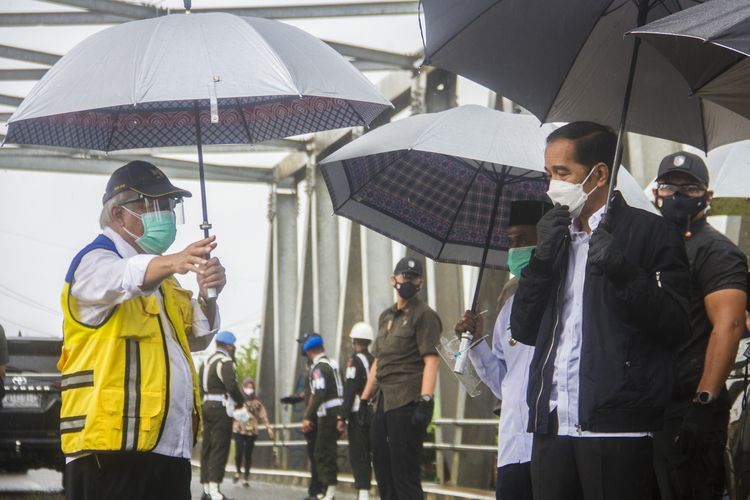 President Joko Widodo (right) inspects the flood affected areas in South Kalimantan on Monday, January 18, 2021.