JAKARTA, KOMPAS.com – Extreme weather or their fallout continues to plague Indonesia at the beginning of the year. The human cost of natural disasters is seen in West Sulawesi, where the death toll from the 6.2 Richter scale earthquake currently stands at 84 people.
The North Sulawesi provincial capital Manado if feeling threatened by waves of up to four meters high. The government maintained a wait and see stance, as the prospect of more extreme weather, including tropical cyclone Joshua, hangs over Manado and the rest of North Sulawesi.
And President Joko 'Jokowi' Widodo urged authorities to step up their relief efforts in South Kalimantan. Read on to get more on these news on this edition of Indonesia Highlights: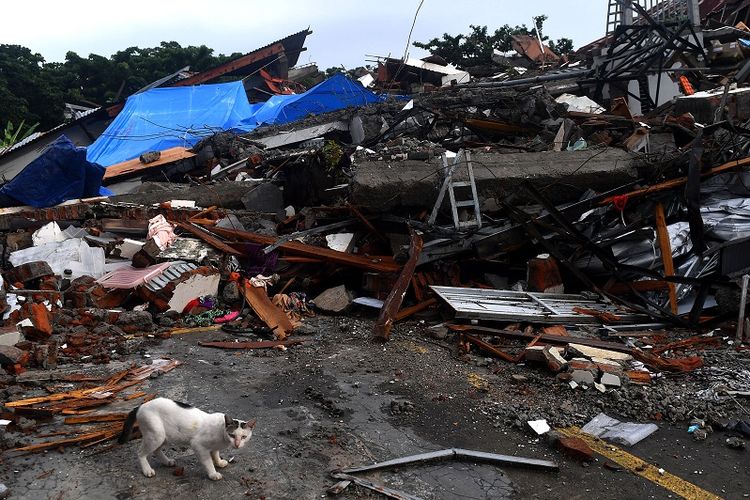 A cat makes its way through the rubble of buidings brought down by the 6.2 Richter scale earthquake in Mamuju, West Sulawesi on Saturday (16/1/2021). ANTARA FOTO/Sigid Kurniawan/rwa.
Death Toll From Earthquake in West Sulawesi, Indonesia, Rises to 84
The number of casualties from the 6.2 Richter scale earthquake which struck the West Sulawesi regencies of Mamuju and Majene on Friday, January 15 has risen to 84 people, up from 46 people during the first day of the disaster on January 15.
"73 of the dead are from Mamuju regency and the city of the same name, while the rest are from Majene regency," said the head of the National Disaster Mitigation Agency or BNPB's Center for Data, Information and Disaster Communications Raditya Jati.
"189 out of 253 people with serious injuries came from Mamuju regency, while another 679 persons were lightly wounded in both Mamuju and Majene," he added.
He pointed out that many of the wounded were injured by rubble from over 400 collapsed buildings in the city of Mamuju, while the number of displaced people has also gone up to 19,435.
"Fortunately, electricity has been restored to both Mamuju and Majene. Access to the outside world [via the Trans-Sulawesi road ]have also been restored."
The Meteorogical, Climatology and Geophysics Agency [BMKG] announced that West Sulawesi also experienced up to 31 aftershocks after last Friday's earthquake.
Source:
https://go.kompas.com/read/2021/01/19/044428874/death-toll-from-earthquake-in-west-sulawesi-indonesia-rises-to-84?page=all#page2.
4 meter waves hit Manado, North Sumatra on Sunday (12/1/2021), inundating roads and leaving sharp pebbles in their wake
High Waves in Manado, North Sulawesi Cause Mass Panic
The Meteorology, Climatology and Geophysics Agency [BMKG] has dismissed allegations that the four meter waves that recently hit the North Sulawesi provincial capital Manado was caused by a tsunami.
"The high waves in Manado was not caused by a tsunami, so there is no need to panic. However, it is caused by extreme weather patterns, so we need to keep an eye out for this over the next few days," said the informational head of Martime Meteorological Weather Eko Prasetyo.
"The weather included heavy rains, high winds and high waves in various parts of Indonesia. I urge the public to stay alert and monitor the latest weather data from BMKG. High tides and heavy rainfall are also bound to keep water levels high."
Eko added that the BMKG is monitoring tropical cyclone Joshua as a possible reason for the high waves, though he has yet to determine if this is a factor in the forming of 4 meter waves.
He added that Manado has been stricken by extreme weather, among them floods and landslides that killed six people and displaced more than 500 others.
Source:
https://www.kompas.com/sains/read/2021/01/18/200500323/bmkg--banjir-manado-bukan-tsunami-tapi-waspadai-potensi-gelombang-tinggi?page=all#page2.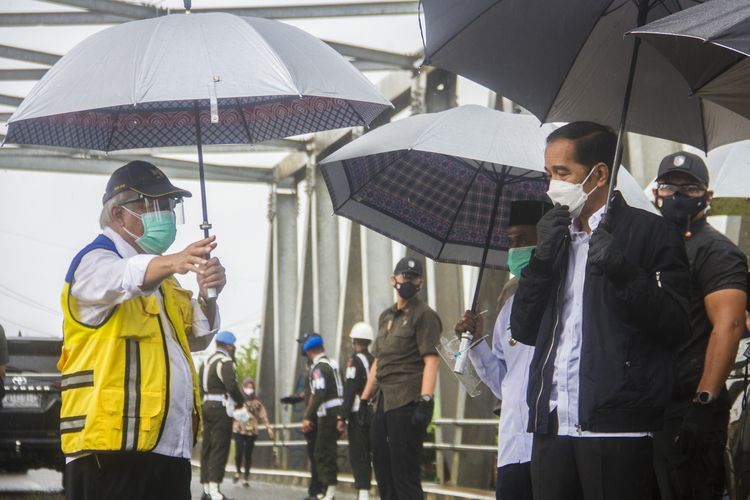 President Joko Widodo (right) inspects the flood affected areas in South Kalimantan on Monday, January 18, 2021.
Jokowi Orders Immediate Response to South Kalimantan Floods
Indonesia's President Joko 'Jokowi' Widodo has instructed his officials to take immediate actions to mitigate the impacts of floods in South Kalimantan.
"Several bridges have collapsed due to the flooding. One of the collapsed bridges can be seen here," said the President in a televised statement on Monday, January 18.
"I have ordered Minister of Public Works and Public Housing (PUPR) Basuki Hadimuljono, to get the work done in three to four days so that the distribution of goods will run smoothly. The President also gave his second instruction to evacuate affected residents.
His third instruction was related to logistics distribution. Jokowi said that nearly 20,000 people have been affected, making logistics more needed than ever to meet the needs of all residents.
Jokowi said the floods hit nearly 10 districts and cities. The floods are the biggest seen in 50 years, as heavy downpours for 10 consecutive days caused the Barito River to overflow.
Source:
https://go.kompas.com/read/2021/01/19/014813774/jokowi-orders-immediate-response-to-south-kalimantan-floods.
Dapatkan update berita pilihan dan breaking news setiap hari dari Kompas.com. Mari bergabung di Grup Telegram "Kompas.com News Update", caranya klik link https://t.me/kompascomupdate, kemudian join. Anda harus install aplikasi Telegram terlebih dulu di ponsel.