LABUAN BAJO, KOMPAS.com – For one toddler in the village of Komodo on the eponymously named island in East Nusa Tenggara province, a day out in the great outdoors became a nightmare after he was mauled by a Komodo dragon on Saturday, January 16.
Village Secretary Ismail explained that the four year-old, who was identified as 'F', did not have to go far to look for trouble, due to the village's proximity to Komodo National Park.
"'F' was on the terrace of hit traditional stilted house and simulating fishing with a rod, nylon rope, and plastic bottle as bait," he said to the Antara state news agency.
"The bottle seemed to attract a Komodo dragon lying at the bottom of the house. The reptile tugged at the bottle with its teeth, and its strength caused 'F' to tumble down from the terrace."
Also read: Animals Gone Wild: Crocodiles, Humans Continue to Clash in Sumatra
Ismail added that "'F's mother rushed to the terrace after she heard the thud and saw the Komodo dragon mauling him."
"She tried to fight off the reptile and yelled for help. Her cries drew the other villagers, who helped drive the Komodo dragon off the bleeding boy."
However, Ismail noted that the giant lizard dealt serious injuries to 'F'. "The Komodo dragon bit one of 'F's hands off at the wrist. He also bit his temple and forehead."
He added that the boy was taken to the village clinic, before he was rushed off to the Siloam Hospital in Labuan Bajo.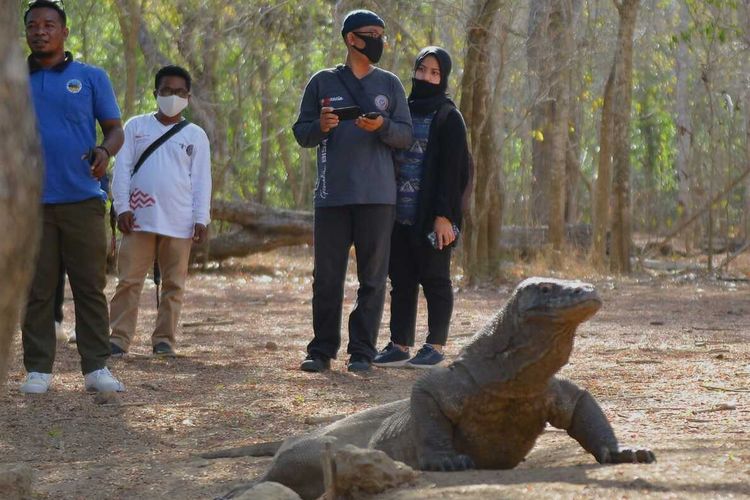 Officials from the Ministry of Tourism and Creative Economy have an outing with the media at Komodo National Park, Komodo Island, Labuan Bajo, West Manggarai Regency, East Nusa Tenggara Province, Sunday (13/9/2020)
Also read: Animals Gone Wild: Indonesian Man Bluffs Sumatran Tiger into Fleeing