JAKARTA, KOMPAS.com – Extreme weather or their fallout continues to plague Indonesia at the beginning of the year. The human cost of natural disasters is seen in West Sulawesi, where the death toll from the 6.2 Richter scale earthquake currently stands at 84 people.
The North Sulawesi provincial capital Manado if feeling threatened by waves of up to four meters high. The government maintained a wait and see stance, as the prospect of more extreme weather, including tropical cyclone Joshua, hangs over Manado and the rest of North Sulawesi.
And President Joko 'Jokowi' Widodo urged authorities to step up their relief efforts in South Kalimantan. Read on to get more on these news on this edition of Indonesia Highlights: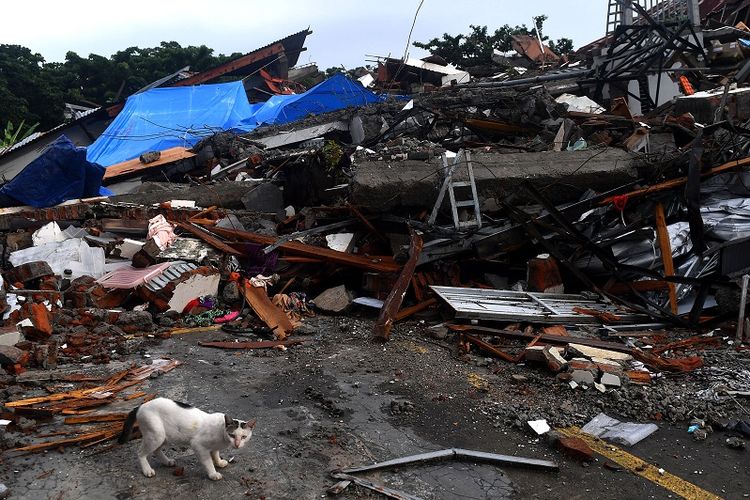 A cat makes its way through the rubble of buidings brought down by the 6.2 Richter scale earthquake in Mamuju, West Sulawesi on Saturday (16/1/2021). ANTARA FOTO/Sigid Kurniawan/rwa.
Death Toll From Earthquake in West Sulawesi, Indonesia, Rises to 84
The number of casualties from the 6.2 Richter scale earthquake which struck the West Sulawesi regencies of Mamuju and Majene on Friday, January 15 has risen to 84 people, up from 46 people during the first day of the disaster on January 15.
"73 of the dead are from Mamuju regency and the city of the same name, while the rest are from Majene regency," said the head of the National Disaster Mitigation Agency or BNPB's Center for Data, Information and Disaster Communications Raditya Jati.
"189 out of 253 people with serious injuries came from Mamuju regency, while another 679 persons were lightly wounded in both Mamuju and Majene," he added.
He pointed out that many of the wounded were injured by rubble from over 400 collapsed buildings in the city of Mamuju, while the number of displaced people has also gone up to 19,435.
"Fortunately, electricity has been restored to both Mamuju and Majene. Access to the outside world [via the Trans-Sulawesi road ]have also been restored."
The Meteorogical, Climatology and Geophysics Agency [BMKG] announced that West Sulawesi also experienced up to 31 aftershocks after last Friday's earthquake.