KOMPAS.com – The Philips BX676X radio seemed like a knickknack at an antiques store or an attic. But for Indonesian vintage radio buff Denny Kusuma, the 1947 wooden wireless receiver is an object of reverence.
"This [Philips BX676X] radio is the same type used by [Indonesian National Hero] General Soedirman during the Indonesian War of Independence against the Dutch," he said at a recent exhibition of vintage radios in his hometown Bandung, West Java, on Friday, December 11.
"Today there are only two radios of this kind in Indonesia, the other one is exhibited at [the Satriamandala] Army Museum in Jakarta."
The 46-year-old added that the wooden radio enabled Soedirman to detect Dutch troop deployments. Denny added that Soedirman had an aide take an engine battery along with the radio where they went as an alternate source of power to electric outlets.
Also read: Indonesian Writer's Debut Novel to Get the Netflix! Treatment
"The radio is so important to Soedirman that it determined his marching route. They include taking an overland detour instead of going through a river, to prevent water from damaging it," he said.
Denny pointed out that findng the radio was a quest. "I got the radio in Yogyakarta a few years ago for Rp. 5 million [$365.15] in a dead condition, then spent another Rp. 3 million to get it fixed," he recalled.
"The Philips BX676X radio is not for sale. Like Soedirman, I will never part from this receiver."
Growing up with radios
The [Philips BX676X] radio is one of hundreds of radios that Denny collected since he became an avid collector of vintage radios in 2015. Yet he was a radio buff long before that.
"I grew up to the sound of radios. My love of radios carried on until I became an adult, and I managed to pass it on to my children," the university lecturer pointed out.
Also read: Glimpses of Colonial Jakarta in Petamburan Cemetery
"I managed to collect up to 400 radios. But now I have 222 as I sold some pieces to make ends meet."
Denny is all too aware that finding skilled hands to restore vintage radios are just as difficult as finding their parts. "In Bandung, there are only three people who can work with antique radios. And all of them are elderly," he sighed.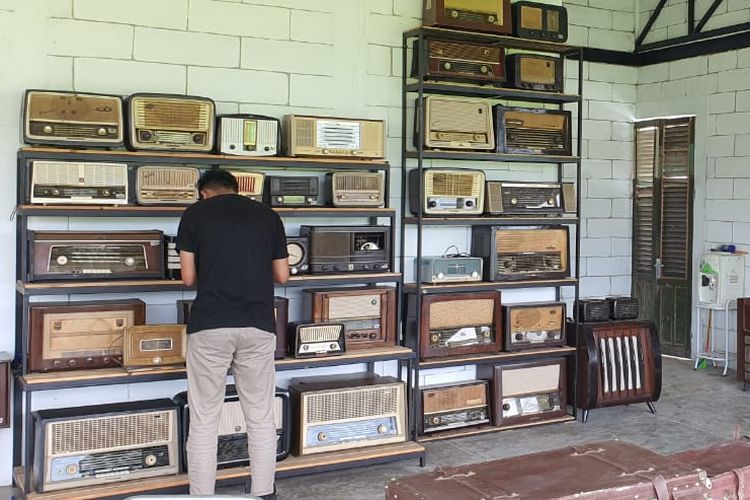 Denny Kusuma and some of his vintage radios
Building up a collection