JAKARTA, KOMPAS.com – The first 1.2 million doses of Covid-19 vaccines from China's Sinovac pharmaceutical company might arrived last week to much fanfare in Indonesia, as does widespread speculation of their prices.
The rapid dissemination of information prompted the Indonesian Ministry of Health to step in and clarify the situation.
"The government has yet to determine the prices for the Covid-19 vaccine, as it is pending their procurement and authorization permit," Ministry of Health spokesperson Siti Nadia.
"Any information from private hospitals or other parties should be viewed with scepticism. Therefore, we urge the public to wait for the government's official announcement on vaccines and vaccinations on the Ministry's website at Kemkes.go.id and Covid-19.go.id."
Also read: Indonesia to Initially Vaccinate 67 Percent of Population
Nadia pointed out that Indonesia authorized vaccines manufactured by the Bio Farma, Sinovac, Sinopharm, AstraZeneca, Moderna, and BioNTech companies to be used in Indonesia.
The Indonesian National Consumer Protection Agency or BPKN has proposed that the government put a cap on vaccine prices.
"We have suggest to the Ministry of Health that Covid-19 vaccine prices be capped at Rp. 100 thousand [$7.06], based on World Health Organization [WHO] guidelines and other benchmarks," said BPKN Deputy Commissioner on Research and Development Anna Maria Tri Anggraeni.
"Affordable vaccines are a must, especially during a time of pandemics. We also urge that Indonesian public have access to Covid-19 vaccines, whether paid or free of charge."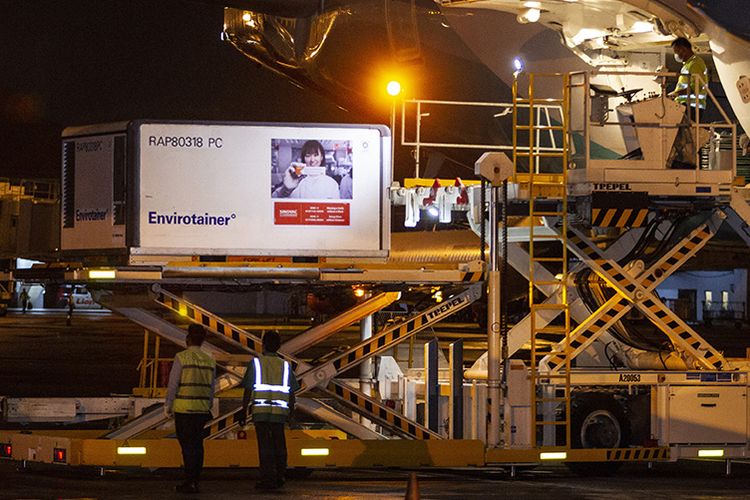 The first shipments of the Sinovacs Covid-19 vaccine arriving in Soekarno Hatta Airport on Sunday (6/12/2020)
Also read: Indonesia Receives 1.2 Million Doses of Covid-19 Vaccine from China's Sinovac