JAKARTA, KOMPAS.com – The Indonesian government has announced that it will inoculate 67 percent of the country's population. Officials drew up the plans as the Covid-19 cases surged to more than 600,000 cases nationwide.
Health Minister Terawan Agus Putranto estimated that the vaccines will be prioritized for those of working age.
"We aim to inoculate more than 107 million people between the ages of 18 and 59, out of 160 million people in that age bracket," he said in a press release on Friday, December 11.
Terawan estimated that the ministry will need 246 million vaccines to meet the target.
Also read: Healthcare Workers in Java, Bali, to Get Covid-19 Vaccine First: Ministry of Health
"We plan to allocate an initial batch of 73.96 million doses for 32 million people, or two doses per person, in a government program. The second batch of 172 million doses will be allocated for 75 million people in a privatized initiative."
The former general said that the government program will cover health workers, police and military personnel, and vulnerable members of society.
The privatized initiative will cover Health Care and Social Security Agency (BPJS) holders or other insurance, and the general public.
"The vaccines have a wastage rate of 15 percent in accordance with WHO guidelines. This includes spare or unused vaccines, as well as lost or damaged doses. The rest can be used as emergency stock in case of shortages," he said.
Meanwhile, Parliament's Commission 9 on Demographic Affairs, Health, Manpower and Transmigration urged the government to increase recipients in its vaccine program.
"The vaccinations should also be extended to those under the age of 18 and those above the age of 59," said Commission 9 member Melkiades Laka Lena.
"The government should also ensure the validity and reliability of the recipients' data under the Satu Data Vaksinasi Covid-19 [One Data Covid-19 Vaccination] program, along with stakeholders such as the public and the Food and Drug Agency [BPOM]."
The Golkar Party legislator added that the government needs to orient the public about the vaccine and to give BPOM the independence and transparency to issue the Emergency Use Authorization for the vaccines.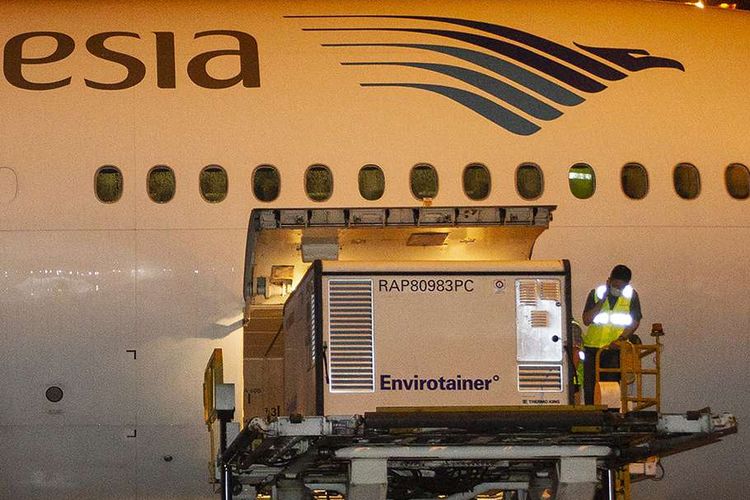 Airport personnel unload the first shipments of the Covid-19 vaccine for Indonesia from the China-based Sinovac pharmaceutical company on Sunday (6/12/2020)
Also read: Indonesia Receives 1.2 Million Doses of Covid-19 Vaccine from China's Sinovac
Melkiades also urged the Ministry of Research and Technology to step up development of the Merah Putih vaccine.
Indonesia has received 1.2 million ready-to-use vaccines from the Chinese Sinovac pharmaceutical company last Sunday, December 6. The country will receive another 1.8 million ready-to-use vaccines in January 2021, as well as 45 million vaccines in bulk.
To date, Indonesia has 605,243 Covid-19 cases since the pandemic was detected in Indonesia last March. Of the number, 18,511 died of Covid-19, while 496,886 recovered.
(Writers: Dian Erika Nugraheny, Tsarina Maharani, Nicholas Ryan Aditya | Editors: Bayu Galih, Dani Prabowo)
Sources:
https://nasional.kompas.com/read/2020/12/11/10401851/terawan-target-vaksinasi-untuk-107-juta-penduduk-usia-18-59-tahun.
https://nasional.kompas.com/read/2020/12/10/21175501/dpr-minta-pemerintah-perbanyak-jumlah-penerima-vaksin-covid-19-yang-dibiayai.
https://nasional.kompas.com/read/2020/12/11/17240541/update-tambah-4911-total-pasien-covid-19-sembuh-capai-496886.
Dapatkan update berita pilihan dan breaking news setiap hari dari Kompas.com. Mari bergabung di Grup Telegram "Kompas.com News Update", caranya klik link https://t.me/kompascomupdate, kemudian join. Anda harus install aplikasi Telegram terlebih dulu di ponsel.