JAKARTA, KOMPAS.com – If you live in Indonesia's capital city, then you probably know that the best 'Pempek' in Jakarta is from Pempek Megaria.
This popular Jakarta food eatery may be small in size, but the flavors of their Pempek are mighty hence why the owner, Rudi, has successfully kept customers returning since it first opened in 1989.
Pempek is a traditional Indonesian fish cake and is located in the Megaria district of the city, giving it its namesake.
"I used to regularly pass by this area, but back in the day, the building did not look like what it is today. Then I saw an empty stall and decided to start selling the fishcakes."
Read also: Which Soto Betawi Resto in Jakarta Counts Among Its Customers Jokowi?
Rudi started the business with no experience in the food business, but because he comes from Palembang, the home of Indonesian fishcakes, he made the decision to begin selling food from South Sumatra.
When it came to choosing a location, Rudi trusted his gut instinct and chose Jalan Diponegoro which is in the Megaria district and has remained there ever since.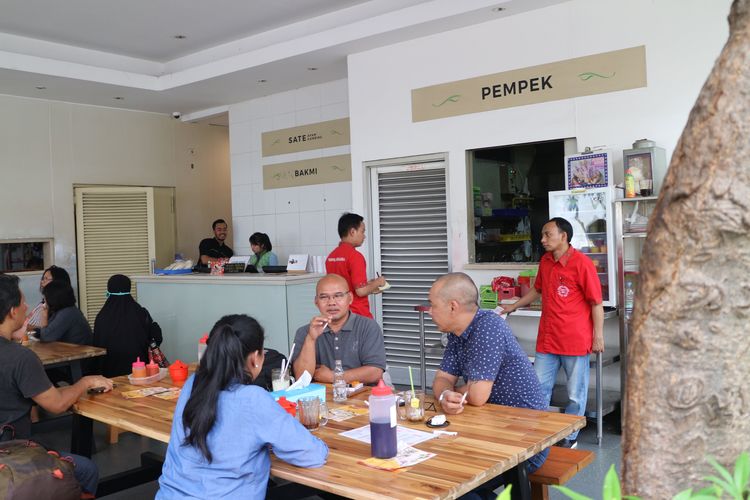 31 Years Strong
In the early days of starting his Jakarta food business, Rudi never imagined that his venture would achieve longstanding success.
The Pempek Megaria owner believes that loyal customers keep coming back because of the affordable price which he has maintained throughout the years.
"I am sometimes bewildered when somebody sells Indonesian fishcakes for $2.05 (Rp 30,000). You already earn a profit by selling at the price I offer. I focus more on large quantities so the price doesn't have to be expensive."
Read also: This 'Gado Gado' Pushcart is a Hidden Gem in Jakarta's Menteng District
What has kept Pempek Megaria going strong in the Jakarta culinary scene is Rudi's insistence to use mackerel as the main ingredient of the Jakarta food dish.
Although it is more expensive than other types of fish, he is able to maintain the authentic flavor of the fishcakes.
Going the extra mile, he continues to use palm sugar from South Sumatera which elevates the vinegar-based sauce to another level.
No Branches or Franchise
Even with its achievement in becoming a Jakarta food eatery legend, there are no Pempek Megaria branches nor any franchises.
Rudi admits that he is not interested in opening any franchise for his Jakarta food business although you can find his business online.
Moreover, a franchise or restaurant branch would make complicate quality control of the central kitchen which he has set up for his business.
Read also: Weak Demand Stalls Recovery of Indonesia's Hotel and Restaurant Industry
Despite having solidified Pempek Megaria in the Jakarta culinary scene, Rudi is uncertain whether his children are interested in continuing the business.
Nevertheless, he hopes to contribute to the Jakarta food eatery in his later years particularly in getting Indonesian kids to have a better appreciation and love of the country's multitude of food.
"During birthdays, kids typically ask for fast food. What I would like to see is them asking for Pempek, Bakso, or Siomay to celebrate their birthdays."
(Writer: Syifa Nuri Khairunnisa | Editor: Silvita Agmasari)
Source: https://travel.kompas.com/read/2020/03/20/193300927/kisah-pempek-megaria-yang-legendaris-berawal-dari-anak-kuliah-nekat?page=all#page2
Dapatkan update berita pilihan dan breaking news setiap hari dari Kompas.com. Mari bergabung di Grup Telegram "Kompas.com News Update", caranya klik link https://t.me/kompascomupdate, kemudian join. Anda harus install aplikasi Telegram terlebih dulu di ponsel.