JAKARTA, KOMPAS.com – Indonesian netizens felt the long arm of the law as the authorities used the country's cyberlaw against insults hurled at politicians or institutions.
Police in Jakarta arrested an individual identified as Faizal Basmi on Sunday, October 18, for insulting President Joko Widodo's Chief of Staff Moeldoko.
"Police nabbed Faizal Basmi at his boarding house in Koja, North Jakarta. We used his Facebook account under the name Muhammad Basmi as evidence, along with his smartphone and cellphone," Argo said.
Also read: Indonesian Students to Gather Again Next Week to Protest Jobs Law
"We charged [Faizal] under the Electronic Information and Transaction Law as his [Facebook] post indicated what he would do to improve the country's situation. However, he disparaged Moeldoko as he did so."
In his post, Faizal described the retired Army general and other general officers, as well as President Joko Widodo, as puppets to foreign interests.
The police also arrested a 28-year-old day laborer in Sukabumi, West Java after a video he shot disparaging the police force went viral.
"[The suspect] uploaded a video vulgarly insulting the police during a protest in Jakarta," said Sukabumi Police Precinct chief Police Commissioner Sumarni of the suspect, who was identified as 28-year-old RRM on October 17.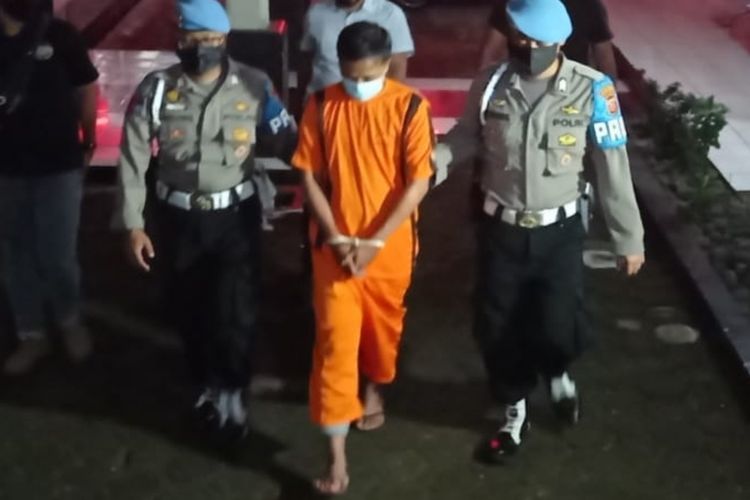 Police in Sukabumi, West Java lead RRM away (16/10/2020)
"We found out about the video after he shared it with his friends. We also confiscated the smartphone RRM used to record the video." If found guilty, the suspects in the defamation cases face up to six years in jail and a Rp. 1 billion [$67,730] fine.
Also read: Indonesian Police Arrest 8 KAMI Activists for Role in Jobs Protests